Details

Category: Arts & Culture
Published: Sunday, 13 October 2019 11:32
Written by Lee-Ann Khoh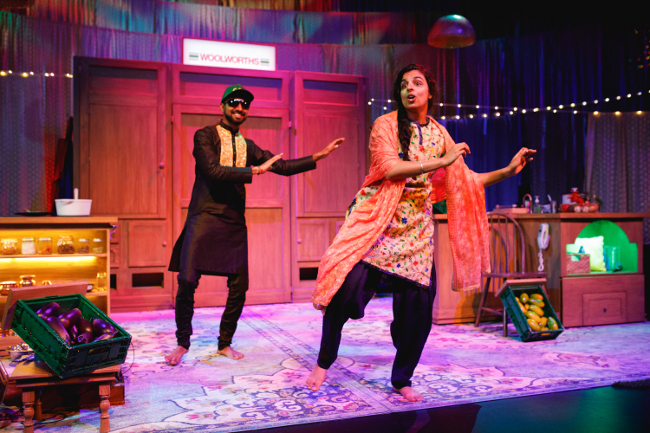 Pavan Kumar Hari and Sukhjit Kaur Khalsa, Fully Sikh
Photo Credit: Daniel J Grant
Three years after appearing on Australia's Got Talent with a powerful poem on racism, spoken word artist Sukhjit Kaur Khalsa has made her theatre debut: Fully Sikh. The "Fully Sikh" experience began pre-show outside Studio Underground – where I attempted to play carrom, an Indian tabletop game for the first time, while others got turbans tied.

When it was time for the show, we took off our shoes and were invited into the theatre. The set had been beautifully transformed into Sukhjit's childhood home, where she was preparing a meal in the kitchen.

Through her spirited, interactive performance poetry, Sukhjit told her story of growing up as a Sikh girl in suburban Perth. The struggle to find one's place within two cultures is one that many people from culturally and linguistically diverse backgrounds can relate to – I certainly did.

The show also brought back memories of my nauseating high school swimming lessons, the discomfort I felt in my own body and skin growing up, and the desperate hope of being accepted by the cool kids. (Being a fellow Leeming Primary alumnus, I also got weirdly nostalgic about hearing my former school song again.)

Sukhjit is a wonderfully engaging performer, who manages to tackle racism and identity with great humour. Composer and musician Pavan Kumar Hari was also a delightful surprise; not only does he create music on stage, he also takes on the roles of various supporting characters in the play, including the white boy Sukhjit has a crush on and the popular girl she tries to befriend.

Fully Sikh is a witty, heart-warming love letter to family and culture – one well worth experiencing.

Presented by Black Swan State Theatre Company and Barking Gecko Theatre, Fully Sikh is on at Studio Underground at the State Theatre Centre of Western Australia until November 3.

If you enjoyed this article, please share it!
To find out about the hottest events around Perth, follow us at @PerthWalkabout