Details

Category: Arts & Culture
Published: Tuesday, 04 June 2019 09:32
Written by Nita Teoh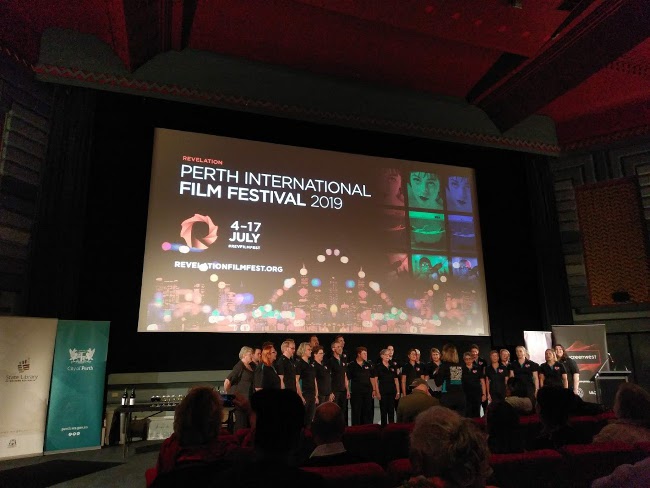 Gay and Lesbian Singers of Western Australia
Program Launch of the 22nd Revelation Perth International Film Festival 2019

Fancy a short or a long short?!

Not of the coffee variety – we are talking about celluloid here. Now in its 22nd year, the Revelation Perth International Film Festival is set to be bigger and better than ever, boasting an impressive line up of independent films from around the globe.

From snails to submarines to shorts, there is plenty on offer with a large selection of genres to suit a wide range of tastes.

As Richard Sowada, Director and Founder of the Revelation Perth International Film Festival described at the program launch event:
Just about as soon as the year's revelation film festival has finished up for the year, it is time to start all over again and to go through the process of calling for film submissions, and of reviewing all the films received, and making the selections that culminates in what we see in the final program.
At the program launch of the revelation film festival, we were treated to the harmonious sounds of the Gay and Lesbian Singers of Western Australia featuring two songs – apt themes on family and friends, and love is love – for the evening's proceedings.

Here are Perth Walkabout's picks for the 2019 #revfilmfest :
Get your Shorts On
Interesting selection of eight shorts from talented emerging WA filmmakers comprising of documentaries, narratives and webisodes – some food for thought about challenges of living in modern society and some funnies await, judging by the descriptions.
Features
Happy New Year, Colin Burstead
" Colin Bursted (Neil Maskell, Kill List, The ABC's of Death, Utopia) has booked a stately home for a family get together at New Year Eve, but, invariably, things don't go as planned in this comedy-drama from Revelation favourite Ben Wheatley (A Field In England, Kill List, High Rise).
With Wheatley's slow burning script and an all-star indie cast  - including Doon Mackichan (Smack The Pony, Plebs), Bill Paterson (High Rise, Law and Order: UK), Mark Monroe (Free Fire), Richard Glover (A Field In England, Into The Woods), Charles Dance (Game of Thrones), Sam Riley (Control), and Hayley Squires – the film paints a portrait of family dysfunction. "
The Wedding Guest



" Official Selection from the Toronto Film Festival, Michael Winterbottom's latest noir-ish crime thriller stars Jay (Dev Patel) as a hired gun of sorts, who after a job in Pakistan finds himself in the company of an unwilling bride-to-be Samira (Radhika Apte), who herself is in possession of something of interest to all manner of pursuers and suspicious parties.

As their position on the run and on the loose becomes more and more dangerous, their relationship similarly becomes more and more intense and between all the opposing forces – well…something's just gotta give. "

The story criss-crosses India and Pakistan traversing all manner of interesting locations – from seedy hotels, packed trains, to desert road trips – the story has it all.

Screens with the short film Paynes Find.
Locusts by Heath Davis (Australian)
" Ryan Black (Ben Geurens) left his small, rural mining town to become a tech-entrepreneur, but now he's returned home for his father's funeral. But there are dark secrets deep beneath the surface of the small town and Ryan finds himself slowly entangled in a world of blackmail and crime.

Australian award winning indie director Heath Davis (Broke, Book Week) creates a brooding outback thriller.

Written by Angus Watts (Book Week, The Blacksmith) and with a cast that includes Ben Geurens (Reign, Neighbours), Jessica McNamee (Battle of the Sexes, The Meg), Nathaniel Dead (Alien:Covenant) and Justin Rosniak (Animal Kingdom), Locusts is a gritty film that shows the potential of Australian genre cinema. "

Screens with the short film Kara.
Hot Mess (Australian)
Australian Premeiere

" Twenty-five-year-old Loz (Sarah Gaul, On The Fringe) could have a promising career as a playwright ahead of her. But her artistic ambitions have stalled, her friendships are strained, and her love life has been non-existent for too long. Meanwhile everybody around her seem to be more successful in relationships, in work, even in sex. And then she meets Dave (Marshall Campbell).

There is a post-mumblecore sense of immediacy to Hot Mess, a well scripted, low budget debut from Coleman. Meanwhile award-winning musical comedienne Gaul delivers a pitch perfect turn, creating a fully believable, and recognisable, character in Loz. "

Screens with the short film My Ghoul.
Documentaries
Anthropocene: The Human Epoch (Canada)
Australian Premiere
" The third in Baichwal and Burtynsky's epic environmental trilogy that includes Manufactured Landscapes (2006) and Watermark (2013), Anthropocene is both magnificent in scope and frightening in subject.

The film explores a new period of human dominance and impact over the planet we inhabit where fossils to be discovered thousands of years from now are of human manufacture. It is a world where whole towns are situated in landscapes that are actually enormous rubbish dumps with roads running through valleys of garbage. From concrete seawalls in China that cover 60% of the mainland coast, to the biggest terrestrial machines ever built, to psychedelic potash mines in Russia's Ural Mountains, to our own Great Barrier Reef, this stunning big-screen experience is something to behold.

From its opening where we see 20,000 illegally poached elephant tusks destroyed and we are asked to consider what 10,000 elephants may look like, this fabulous documentary compels us to consider our position, our power, our impact and our responsibility."

An international film festival favourite.

Official Selection: Toronto Film Festival
Official Selection: Sundance Film Festival
Official Selection: Berlin Film Festival

Screens with the short film Judas Collar.
The Man who stole Banksy
" Everything starts when graffiti artist Banksy paints a picture on a wall in Palestine. How the picture is interpreted, where it is painted, and speculations of its value lead to the careful removal of the wall and its subsequent shipping to Europe. Its destination, the international art market.

But The Man Who Stole Banksy isn't just about the wall, but about the way in which graffiti changes and challenges our expectations of the city and how this democratic art form has become part of the art market.

Narrated by Iggy Pop, The Man Who Stole Banksy is a compelling documentary about the relationship between street art with the communities in which it appears, the developing nature of public space, the business of the art market, the role and meaning of graffiti across cultures and the way it has transformed walls in communities and walls in galleries. And a four ton wall. "

Screens with the short film Murals.
The Eyes of Orson Welles
Official Selection: Cannes Film Festival

Turning his attention to the legendary Orson Welles, director Mark Cousins offers a fascinating insight to Welles as a creator, a director, and – most importantly - as a visual artist.

Examining Welles' artworks, to which Cousins was granted exclusive access, as well as his filmmaking, this documentary is a deeply informed and passionate essay that will fascinate and inspire anybody interested in the power of the image, and the work of Orson Welles.

Packed with fantastic footage, it's impossible not to admire the vision, scale and scope of his body of work. We guarantee after seeing this documentary, you'll be heading straight home to immerse yourself in the work of this unique and idiosyncratic actor and director.

Official Selection: Cannes Film Festival

Screens with the short film Chronicle.

The revelation film festival is more than just about films –there are also panel discussions, guest interviews, exhibitions, and screen industry career information sessions on offer.

For the kids, there is a special collection of curated short animations from around the world. The International Family Animation Explosion is suitable for all ages.

Also, the XR:WA conference (from the 6th to 14th July) will run in parallel. The conference and public expo features the latest in all things interactive and immersive - games, VR (virtual reality), AR (augmented reality), and AI (automated intelligence).

We are lucky to have the international Revelation Festival right right here in Perth to experience.

It's on from the 4th July to the 17th July.
#revfilmfest

If you enjoyed this article, please share it!


To find out about the hottest events around Perth, follow us at @PerthWalkabout