Details

Category: Arts & Culture
Published: Thursday, 18 March 2021 17:23
Written by Greg Letts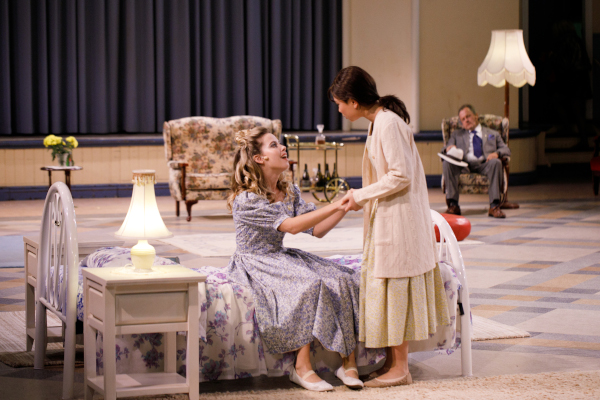 Bridie McKim (as Anya) and Grace Chow (as Varya), The Cherry Orchard
Photo Credit: Daniel J Grant
The grounds and buildings of Dalkeith's Sunset Hospital provide the perfect faded grandeur for Black Swan State Theatre Company's adaption of Anton Chekhov's The Cherry Orchard. Set amongst dilapidated old buildings that appear abandoned, as well as outdoors on land with million dollar views, it is ironic that the destruction of Ranyevskaya's cherry orchard for summer cottages would no doubt be repeated on these heritage grounds if local developers were given half a chance!

While Chekhov himself described his play as a comedy, there are no doubt plenty of tragic elements within it. In Black Swan State Theatre Company's production, these tragic notes are emphasised by the plentiful surrounding comedic material. And while shifting the place and time from 1880's Russia to 1980's Manjimup does dilute some of the original themes of social upheaval somewhat, there is still plenty of substance to Chekhov's ideas about the decline of the ruling order and the rise of a new social strata.

But while the play has plenty to say, how well does it say it? Black Swan State Theatre Company regulars will no doubt recognise the professional production cast at work yet again, even in an unfamiliar location and amidst the difficulties presented by covid-19. The shifting of locations from act to act and from indoors to outdoors works quite well all things considered (pro tip: use the mosquito repellent provided – and don't forget that mosquitoes will bite through socks!) - fortunately the weather co-operated and gave us a lovely night to enjoy.

The cast attack Chekhov's work with relish, and certainly bring to mind the heady excesses of the 1980's for those of us old enough to remember the rise and fall of Bondy, Skase & co. While it is 3 hours long with a half hour interval for refreshments (very good by the way – make sure to order the Hungry Russian), the play zips along nicely. It is a very good ensemble effort, with everybody putting in strong performances, but as is my wont I must make a special mention of Sam Longley's scene-stealing Yepikhodov – whenever he was on stage I just had to watch what he was up to! Saved it!

All in all, Black Swan State Theatre Company's The Cherry Orchard is a bit like one of those cherry cocktails – sweet and light on the surface, but with a dark and bitter bite underneath the froth. Funny and entertaining but with a dash of melancholy and social tension thrown in. A great night out.
If you enjoyed this article, please share it!



To find out about the hottest events in Perth, follow us at @PerthWalkabout