Details

Category: Arts & Culture
Published: Wednesday, 05 May 2021 09:20
Written by Lee-Ann Khoh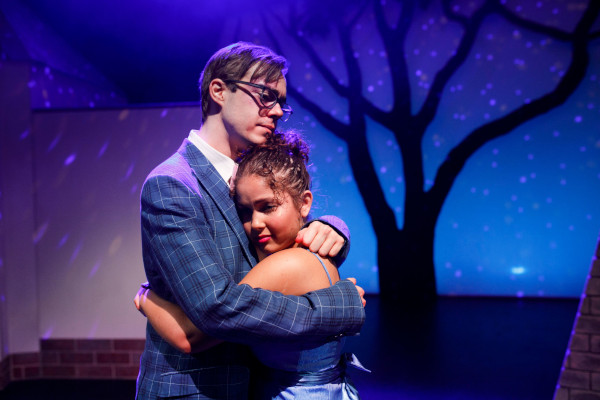 Daniel Buckle (as Arnold) and Courtney Henri (as Lucy), Playthings
Photo Credit: Daniel J Grant

Whoa.

That was my immediate reaction after Playthings. For various, mostly COVID-related reasons, I hadn't gone to the theatre in over a year so it was good to get back into it with a production that exemplifies just how brilliant it can be.

Amidst Perth's lockdown, there had been doubt about whether this show would go ahead. And with everyone in attendance required to wear masks, the threat of COVID lingered in the air. One of the first things we noticed when we took our seats was the eerie shadow of the trees arching over the two houses, setting the scene for what was about to unfold.

At the start of Playthings, 13-year-old classmates Lucy (played by Courtney Henri) and Arnold (Daniel Buckle) sneak away from home to meet in the bush. "Have you ever seen a dead body?" Lucy casually asks, before showing Arnold a dying kangaroo.

It soon becomes clear that Lucy and Arnold are both troubled in their own ways, trying to navigate adolescence against the shadow of past traumas – and so they connect in the lead-up to an explosive school social. Doing their best to be supportive, while hiding secrets of their own, are English teacher Miss Richards (Siobhan Dow-Hall) and Lucy's stepfather Rhys (St John Cowcher). All four actors drew us in with their engaging, believable performances.

Scott McArdle's semi-autobiographical play packs a punch, with references to suicide, self-harm and abuse balanced with a healthy dose of (admittedly dark) humour. In addition to depicting life after a traumatic event, this coming-of-age story captures the pressure and awkwardness of being a teenager and trying to find your place in the world.

With mental health issues becoming even more prevalent as the world reels from the pandemic, Playthings really does feel timeless. Even if some of the pop culture references might go over a 13-year-old's head today.

Playthings, presented by Black Swan State Theatre Company in conjunction with The Blue Room Theatre, is on at Studio Underground at the State Theatre Centre of WA until 8 May.

If you enjoyed this article, please share it!


To find out about the hottest events in Perth, follow us at @PerthWalkabout