Details

Category: Arts & Culture
Published: Wednesday, 16 February 2022 08:04
Written by Nita Teoh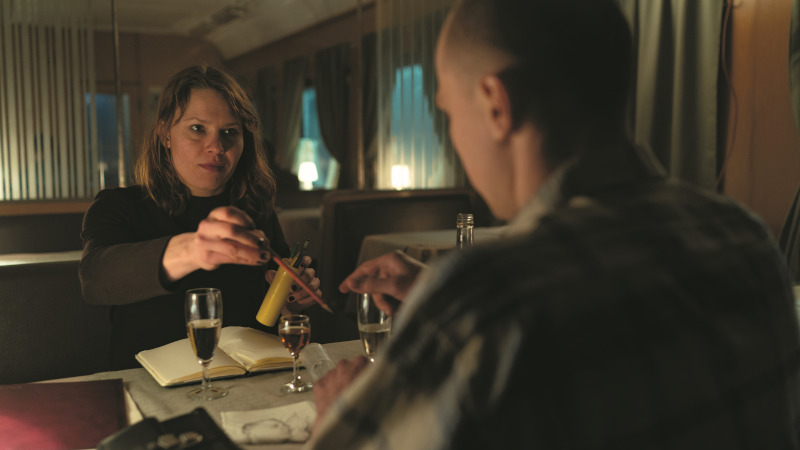 Seidi Haarla (as Laura) and Yuriy Borisov (as Ljoha) in Compartment No. 6
Photo Credit: Sami Kuokkanen


"Two strangers share a journey through Russia that changes their perspective on life"



The storyline of Perth Festival's latest movie offering Compartment No. 6 greatly appealed and with our Charlies Pizza order locked in for the evening (which has become something of a tasty tradition!), my partner and I headed to UWA Somerville, along with temporary third family member Greg the Ambassador Dog for Guide Dogs WA.

The plot of Compartment No. 6 revolves around the main character Laura (acted by Seidi Haarla) - a Finnish archaelogy student studying in Russia, who decides to travel via train to Murmansk with her Russian girlfriend to see the petroglyphs (rock paintings). At the last minute her girlfriend has to cancel due to work, and Laura decides to travel on her own.

As the train heads to the Arctic Circle, Laura is forced to share a cramped sleeper compartment with a travelling companion from hell - a male skinhead from Russia by the name of Ljoha (Yuiy Borisove) who is travelling to Murmansk to work in the mines.

With nothing in common, and distrust and repulsion from Laura's towards the oafish Ljoha, the unlikely pair must make the best of their time together as the trip will take several days.

Director Juho Kuosmanen beautifully captures the slow change in dynamics between the two main characters as they slowly make their way towards their destination. It's a bumpy ride in more ways than one, but with shared circumstances, lots of alcohol and a little humour and care for each other, both characters find themselves a long way from where they first started out.

The pervasiveness of loneliness, the desire for some sort of companionship is a common human need. At the end of the day, no matter how introverted we may be, or unusual in our ways, we all to some degree strive for some level of human connection and meaning in life. Compartment No. 6 is a distinctly different movie that portrays the essence of human relationships and the complex web that we weave.

The snowy scenery also was beautiful as the train stops took us to different destinations heading towards the Arctic Circle.

If you enjoy an odd couple romance/drama with an unique take on things, and two interesting characters that through a twist of fate become entwined, then Compartment No. 6 at the Perth Festival movies under the UWA Somerville is a great pick.
Compartment No. 6 shows with the short film Wirun till Sunday 20 February.

If you enjoyed this article, please share it!



To find out about the hottest events in Perth, follow us at @PerthWalkabout