Details

Category: Arts & Culture
Published: Tuesday, 19 July 2022 07:13
Written by Lee-Ann Khoh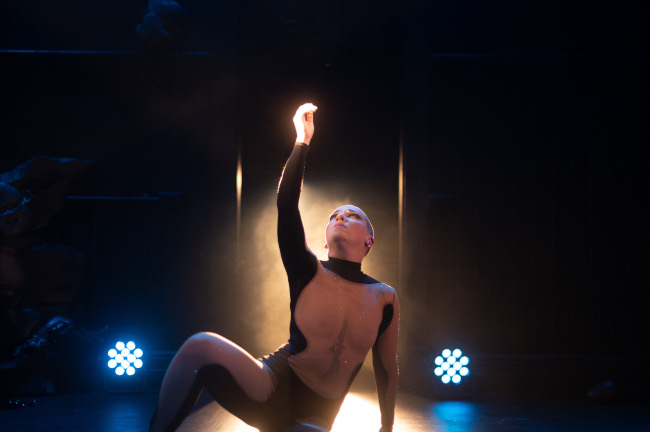 Bobby Russell, WALK at The Blue Room Theatre
Photo Credit: Jed Lyall
Well, that was different.

I wasn't entirely sure what to expect when I went to see WALK – and as it was happening, I wasn't quite sure what I was watching.

It was certainly captivating – I couldn't look away and had the sense that I was seeing something incredibly profound, even if I didn't fully understand it. Maybe that's the point. After all, this isn't my story – it's Bobby's.

WALK is the brainchild of Bobby Russell – an intimate journey through their mind that began as we entered the dark theatre through a sweet-smelling corridor with gorgeous clouds directly above us. From there, my night vision and light sensitivity were tested in a bewitching performance that combined theatre, interpretive dance, fine art and intense flashes of light.

There is a single performer and no dialogue outside of a poetic voiceover and song lyrics. But through this immersive experience, we see intense expressions of pain, of feeling trapped… and the unbridled joy of finally breaking free.

Bobby Russell as the performer for the night captivated the audience with their sleek performance, dance moves and interpretation of WALK.

Huge props (ba dum tsh) must go to Opie Robinson for the set design, Peter McAvan for the sound, and Joe Lui for the lighting – WALK would not have had half the impact it has without these elements all working together so seamlessly.

WALK, presented by Bobby Russell and on certain nights by swing performer Shuling Wong, is on at the Blue Room Theatre until July 30.

Nita Teoh - Editor's Note:

As I watched WALK, I was struck by a sense of how the performance of WALK could be viewed as a representation of death and rebirth. The tunnel at the start with the gorgeous clouds above being the moment of death and heading to the other side, before being reincarnated in a cocoon while metamorphosing into a new being. We the audience see the transformation as we watch a chic person with their shiny sleek hair and playful moves emerge, celebrating both the lightness and darkness of life in all its forms.


If you enjoyed this article, please share it!


To find out about the hottest events in Perth, follow us at @PerthWalkabout