Details

Category: Arts & Culture
Published: Friday, 05 August 2022 12:31
Written by Greg Letts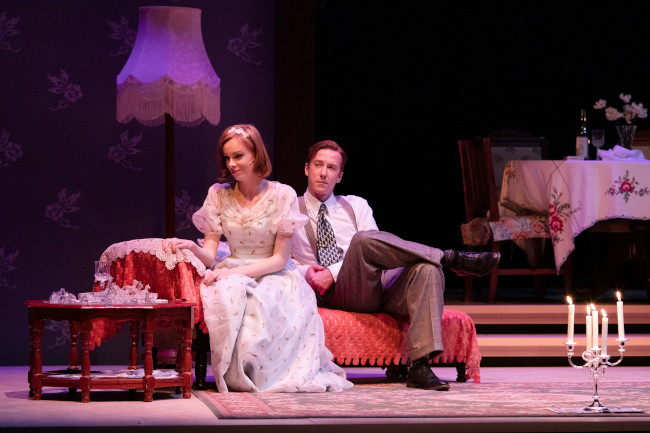 Acacia Daken (as Laura Wingfield) and Jake Fryer-Hornsby (as Jim O'Connor), The Glass Menagerie
Photo Credit: Daniel J Grant
Coming in to the warmth of His Majesty's Theatre after the biting cold of a wet and wintry Wednesday night in Perth, my partner and I were looking forward to thawing out while watching an American classic performed by the always professional Black Swan State Theatre Company cast and crew.

Having only a passing familiarity with Tennessee Williams' work (I've watched Newman and Taylor in Cat on a Hot Tin Roof and the Black Swan production of A Streetcar Named Desire), I didn't know anything about The Glass Menagerie other than the fact that it was set in the American 1930's.

Coming in cold(!) to a play does allow you to settle down and enjoy the production as a fresh new experience, without any preconceived ideas or expectations, at the risk of not knowing what is going on for a while. Fortunately The Glass Menagerie is easy to follow, the stage being set by the narrator and character Tom in his opening monologue, as he explains that the play is a memory, unreliable and incomplete, but also "truth in the pleasant disguise of illusion".

One of my favourite parts of Black Swan State Theatre Company productions is checking out the stage design for each new play, they are invariably intriguing and aesthetically pleasing. The Glass Menagerie is no exception, with the use of missing doors, windows and the use of see-through screens and projected backdrops to add to the feeling of reliving a memory, where all the unimportant background details are removed, focusing only on the essentials.

And so we sit and watch the story of the Wingfields unfold, with the suffocating relationship between Tom and his mother Amanda, and the retreat of Tom's sister Laura into a fantasy world of phonograph records and make-believe stories about her glass figurines, and we can see that this is a family that is ready to tear itself apart. Tom is frustrated with his lot, burdened by duty to his family but chafing to run down the fire escape and live a life of adventure. Amanda is obsessed with protecting and providing for Laura, who seems unable to function in the real world. Laura is still carrying the scars of a traumatic childhood illness, and although her limp is barely noticeable, her mental trauma is still unhealed. With the ever looming spectre of Tom's father and his abandonment hovering over their home, their day to day existence is as fragile as one of Laura's glass animals. All it takes is one visit from Tom's workmate Jim to finally shatter their family into fragments, never to be put back together again.

The Glass Menagerie is another polished effort from Black Swan State Theatre Company. The cast all put in very strong performances, and having an actual background pianist to provide mood music was an interesting touch too. Each of the characters feel like real people, a touch accentuated by the vagaries of memory, but grounded in reality all the same. And just like in life, there isn't always a happy ending, and no matter how far you run, you can't escape your past. Powerful and moving.

The Glass Menagerie by Black Swan State Theatre Company is on at His Majesty's Theatre till 21 August.

Presented through special arrangement with The University of the South, Sewanee, Tennessee.

If you enjoyed this article, please share it!
To find out about the hottest events in Perth, follow us at @PerthWalkabout