Details

Category: Arts & Culture
Published: Monday, 13 May 2019 10:56
Written by Nita Teoh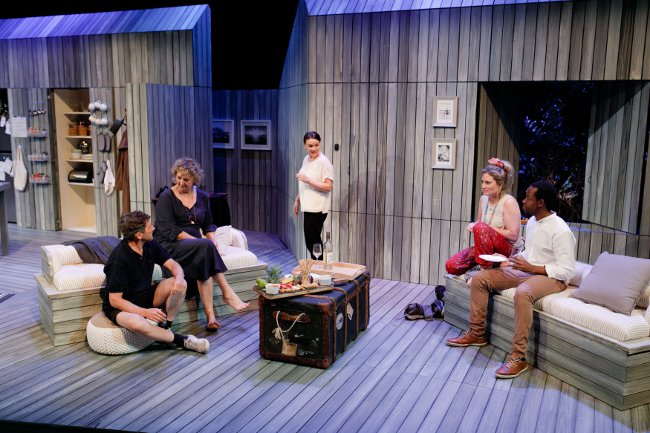 Water, Black Swan State Theatre Company
Photo Credit: Daniel J. Grant
Picture a family re-union at an idyllic holiday location in Perth.
What could go wrong? And what does the future hold for all of us?
What starts out as a convivial get-together gradually unravels into a sequence of events that unearth what has really been going on in each of the characters' lives.
Ex politician Peter, a once powerful man, is celebrating his birthday with his family and the water on his island holiday home is running out.
He has had to step down because of party pressure and is in self-imposed exile at his island holiday home with his loving and supporting wife, who is awaiting the arrival of their two daughters – one having a gap year and who turns up with an uninvited stranger (Yize), and the other a successful lawyer on her way up.
It's a cracker of a play and a timely one in light of our Federal election coming up next week and important issues to decide upon.
Water is funny and insightful – it is provocative in reflecting upon the decisions made by people transitioning through the different ages of life and their ramifications across the different fronts of life - career, home, family and more.
With a broader sweep, it challenges us to examine our own beliefs on current local and global issues – asylum seekers, off shore detention – how did we end up with our current system?, religion - the after life or not? – why is it that the pendulum appears to have swung towards more non believers?
And what has happened to the birdlife and our environment? Does every bird make the long journey of migration? It is not unlike the journey of migration that we as humans make between continents – sometimes we make it, and sometimes we don't.  Yize's story of his journey with his father on a refugee boat seeking asylum was powerful and hard hitting.
" They recovered thirteen bodies in the water, just off the coast of Australia, thirteen women and children. You made an example of them, to stop them, you made an example of their lives, to prove a point."
"Because we deserve that, the chance of a new life, don't we, after everything? Why would anyone deny us that, a life? "

-    Water, Jane Brodie

Post intermission – the play took an interesting turn, with 2 scenes played out from different eras. It was interesting in its expose of two different times, but with similar themes and challenges raised. As they say: things have changed, but not really.
Jane Brodie, internationally renowned playwright has hit the mark with Water. Get ready for some thought provoking entertainment with a good dose of sharp witted humour.
It is contemporary theatre at its best – it confronts topics dearest to our heart – our concern for what happens to both strangers and our loved ones, our own family politics and how international politics can affect us.
And remember, in a world gone crazy, a glass of wine solves almost anything!
Water is modern and hard hitting – another powerful play by Black Swan State Theatre Company – and so far, one of my favourite picks in this year's season of theatre.
Water by Black Swan State Theatre Company is showing at the Studio Underground of the State Theatre Centre of WA until 26 May.
If you enjoyed this article, please share it!



To find out about the hottest events around Perth, follow us at @PerthWalkabout