Details

Category: Arts & Culture
Published: Saturday, 27 October 2018 16:37
Written by Nita Teoh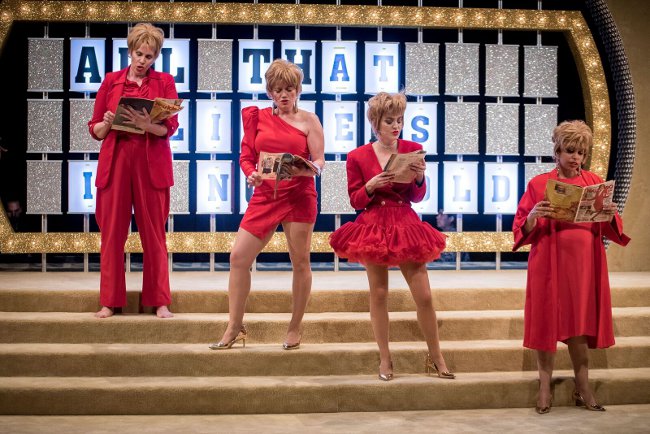 Katherine Tonkin, Harriet Marshall, Adriane Daff, Laila Bano Rind, in Xenides
Photo Credit: Dana Weeks


After the fun we had watching In the Next Room, or The Vibrator Play at the Heath Ledger Theatre a few days ago, we eagerly returned to the State Theatre Centre of WA – this time to watch Xenides at the Studio Underground.
As we waited for the performance to start, we were greeted with a glitzy background set straight out of the popular TV game show The Wheel of Fortune.
The play is about the life of Adriana Xenides – the game show co-host of The Wheel of Fortune. An iconic figure for many Australian families as they watched the box each night, she lays claim in the Guinness Book of Records for being the longest running TV show game hostess, with an 18 year run.
Though show biz can appear glamorous, the life and times for Xenides was often one of turbulence behind the scenes, as she struggled to tackle various health issues including drug addiction, anorexia and depression, and the breakdown of her marriages.
The 4 actresses (Adriane Daff, Harriet Marshall, Laila Bano Rind, Katherine Tonkin) of this part play, part musical do a fantastic job of projecting the personality of Adriana with their friendly bantering back and forth. Switching between their own lives and that of Xenides, the transitional acting that we witnessed was fun, witty and light hearted, as well as sad and poignant when exploring and reflecting on some deeper issues about life experiences.
The night breezed by quickly as songs were sung to rejoice and reflect on the life, loves, highs and lows of Adriana Xenides.
Black Swan State Theatre Company have pushed the boundaries to present creative theatre and to explore themes that do not always receive mainstream coverage. And while the themes of the two plays by Black Swan State Theatre Company this week have been about women, Xenides is not just a "chick play". It will appeal to a wide audience of theatre goers, especially anybody who ever tuned in to watch the wheel go round and the fashionable Adriana spinning the letters and bantering with her male co-hosts.
So grab a champagne, have fun and enjoy the show.
It's on at the State Theatre Centre of WA till 11 November.
If you enjoyed this article, please share it!



To find out about the hottest events around Perth, follow us at @PerthWalkabout