Details

Category: Arts & Culture
Published: Sunday, 18 November 2018 09:27
Written by Lee-Ann Khoh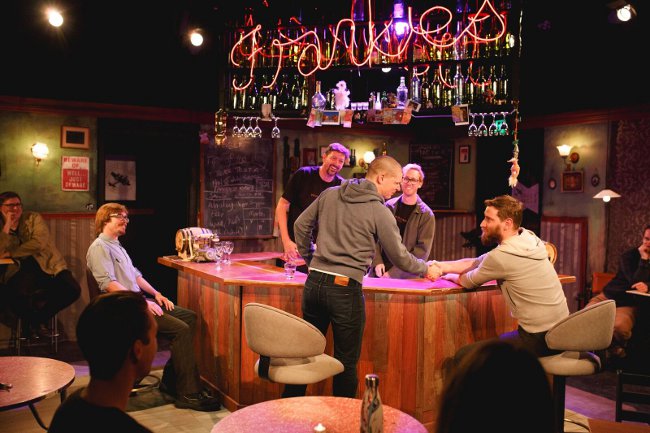 Frankie's, The Blue Room Theatre
Photo Credit: Daniel James Grant


When I read that Frankie's was completely unscripted, I thought: "This will either be amazing or terrible." Fortunately, it was not the latter.
Frankie's is the name of the dive bar where this unique play (Is it still called a play if there's no script?) is set. Each show is another night at Frankie's, where we – the audience – get to hang out, observe and engage with the banter between the staff and regular punters. If you attend multiple shows, you can see where the main characters have gotten to in their lives since you last saw them. Each show is also illustrated, with the artwork displayed at the Blue Room Theatre during the show's run, so you can catch up on what happened on previous nights.
I attended the third instalment of this fifteen-part series and had an entertaining evening getting to know jaded bartender Keith and his inexperienced co-worker Chelsea – whose grandfather owns Frankie's – as well as the perpetually drunk Matthew, pompous Vincent, and down-on-his-luck actor Rob. The theme of the episode (there's a different one every night) was "Always carry a pen on you", and it was impressive to see all the hilarious ways in which the actors managed to weave this theme into the performance.
Their conversations are interspersed with live music. Like the actors, the musicians are also making up their songs on the night. The lyrics cleverly reflected the dialogue and action that had just taken place.
The theatre itself was convincingly transformed into a bar, with cabaret style seating and the opportunity for audience members to buy drinks from Keith and Chelsea.
Frankie's is a delightful slice of life that perfectly captures the charm of your local – the comfortingly familiar pub you know is probably a bit rubbish, but you love it anyway.
Frankie's, presented by Variegated Productions, is on at the Blue Room Theatre until December 1, 2018.
If you enjoyed this article, please share it!



To find out about the hottest events around Perth, follow us at @PerthWalkabout