Details

Category: Sports & Recreation
Published: Wednesday, 29 February 2012 12:14
Written by Vicki Sly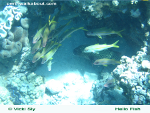 Most Australian kids grow up with their own goggle and snorkel set, and have an appreciation for the underwater world that surrounds this vast state of ours.
My diving experience has never gone beyond snorkelling so whilst researching material for this article I was surprised to learn just how many dive sites there are in Western Australia for both the novice and the more serious adventurers, river and ocean included.
If you are only in Perth for a short visit and would like to take a look underwater Down Under, there are a few local and easily-accessible options close to the city starting with the Swan River.