Details

Published: Tuesday, 19 July 2022 07:13
Written by Lee-Ann Khoh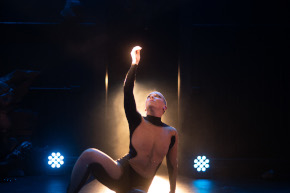 Well, that was different.

I wasn't entirely sure what to expect when I went to see WALK – and as it was happening, I wasn't quite sure what I was watching.

It was certainly captivating – I couldn't look away and had the sense that I was seeing something incredibly profound, even if I didn't fully understand it. Maybe that's the point. After all, this isn't my story – it's Bobby's.

WALK is the brainchild of Bobby Russell – an intimate journey through their mind that began as we entered the dark theatre through a sweet-smelling corridor with gorgeous clouds directly above us. From there, my night vision and light sensitivity were tested in a bewitching performance that combined theatre, interpretive dance, fine art and intense flashes of light.