Details

Published: Thursday, 03 February 2022 17:26
Written by Nita Teoh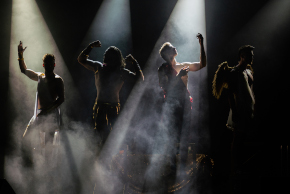 With the glow of the signature Fringe World pink bunny acting as a siren's call, my partner and I eagerly headed to the Girls School to watch the latest show Godz by Head First Acrobats.

The theme for the evening was Ancient Greece as the Gods: Cupid (God of Love), Hercules (God of Strength), Dionysus (God of Wine) and Apollo (God of the Sun, Music and Poetry) graced us with their presence.

The Head First Acrobats cast certainly looked the part of Gods – they are very athletic and fit! Add in their gymnastic mastery, their slapstick humour, and a large dash of naughty sex appeal – these guys are a winning team.