Details

Category: Arts & Culture
Published: Wednesday, 24 May 2023 09:06
Written by Nita Teoh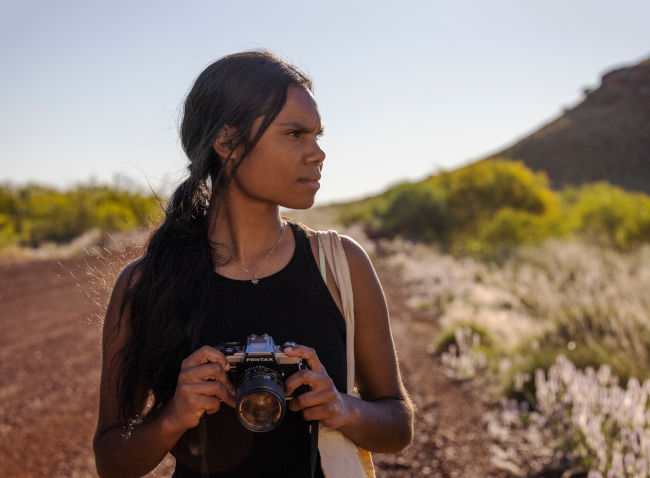 Shantae Barnes-Cowan (as Murra), Sweet As
Photo Credit: Nic Duncan
On a sunny Saturday morning, I walked down Oxford St to Luna Leederville to watch Sweet As - the debut feature film by Nyul Nyul / Yawuru Director Jub Clerc.

I was especially looking forward to watching this movie - being a locally made film and set within the spectacular and stunning landscape of the Kimberley region. I had missed catching it at the opening night of the WA Made Film Festival.

The movie revolves around the coming of age story of Murra (Shantae Barnes-Cowan) as she battles the challenges of young adult life – with her mother being constantly absent due to drugs and partying.

Her Uncle Tom (a policeman) sends her off reluctantly on a youth photography trip for at risk young adults, knowing her keen interest in photography.

Inspired by Director and Writer Jub Clerc's own childhood, the movie captures beautifully and poignantly the vulnerabilities and foibles of being a human – let alone a young adult from a troubled family background who is still finding her way through the complexities of adulthood.

Kudos to actor Shantae Barnes-Cowan who depicts Murra's character with acute insights and emotional complexity – her angst on her rollercoaster relationship with her Mother, her excitement and curiosity about her newly found attraction to the opposite sex, and her impulsiveness and newly formed connections with her fellow passengers are vividly portrayed as events unfurl on the trip.

Sweet As is a coming of age movie with distinction – tackling the need for understanding of Aboriginal culture and embracing tolerance between cultures.

It is a sensitive and nuanced movie but still tackles the realities of being a young adult and all the issues that come with maturing towards adulthood.

Just as the youth photography trip ended all too fast – so did the movie. It went by quickly clocking in at 86 minutes (1.5 hours).

It was the winner of the Crystal Bear Award for Best Film in the Generation K Plus, Berlinale 2023 and of the NETPAC Award at the Toronto International Film Festival 2022

Sweet As opens at Luna Palace Cinemas on the 1st June or catch the advance screenings on Saturday 27th May or Sunday 28th May.

If you enjoyed this article, please share it!


To find out about the hottest events in Perth, follow us at @PerthWalkabout