Details

Category: Events
Published: Saturday, 08 March 2014 14:40
Written by Nita Teoh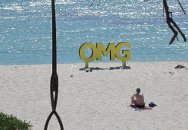 Sculpture by the Sea in Perth has come around again, and we are lucky to be able to enjoy this favourite free to public arts event, with the organisers overcoming some challenging times to be able to launch this year.

It seems a while ago now that the creator of Sculpture by the Sea David Handley had a dream, and it was his dream that a free to the public community arts event be created for Sydneysiders. Handley was inspired by large community art events like 'Opera in the Park' and 'Symphony Under the Stars', and it was this desire that resulted in the first Sculpture by the Sea being held in Sydney in 1997.

From there, things got bigger, and the event spread to Perth, when the event was launched at Cottesloe Beach, a beautiful location, that we all know, love and enjoy. This year's event has attracted over 70 local, interstate and international artists, whose art works will be on display from the 7th March to the 24th March to create this beautiful sculpture park.