Details

Category: Events
Published: Friday, 23 March 2012 11:51
Written by Ann Paterson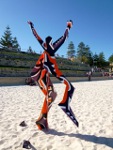 Each year art comes to Perth's Cottesloe Beach in the form of the Sculpture by the Sea exhibition, transforming the beachfront into a sculpture garden and showcasing the work of more than 70 local, national and international artists.
The original Sculpture by the Sea exhibition was held at Sydney's Bondi Beach in 1997, expanding to Cottesloe in 2005 and Aarhus, Denmark, in 2009. It had its origins in the desire of founder David Handley to create a free public arts event, a goal he has certainly achieved.
The Perth community has embraced Sculpture by the Sea, with a record 215 000 people attending the exhibition in 2011, and big crowds attending this year. Visitors mingle with beach-goers, lifesavers and locals as they explore the sculptures.

1 comments