Details

Category: Events
Published: Wednesday, 19 June 2013 14:20
Written by Chris Thomas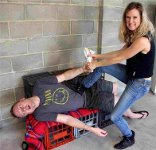 Catch the hugely popular1990s cult novel He Died with a Felafel in His Hand on stage this month at The Flying Scotsman's Velvet Lounge in Mount Lawley.
It's a must see cult classic that explores the madness of sharing house with the good, the bad and the ugly.
Written by John Birmingham and adapted by Simon Bedak, Steve Le Marquand and Michael Neaylon, Groovy Boots Theatre is bringing it to life and taking the show back to its pub origins at The Flying Scotsman.

Described as one of the funniest Australian novels ever written with sales of more than 300,000 copies and counting, He Died with a Felafel in His Hand also has the record of the longest-running stage play in Australian history.