Details

Category: Markets
Published: Wednesday, 03 October 2012 11:30
Written by Nita Teoh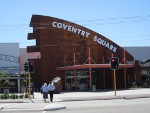 Perth can finally boast its own big markets in Morley, which have become a popular attraction with locals and visitors coming from far and wide.

Coventry Square Markets opened its doors in late 2011 after major development works were completed to transform the old Coventry Group's site to what it is today. Its brand spanking new premises offer up a selection of 170 shops to browse through, sprawled over an area of 11,000 square metres. So it's time to get your walking shoes on!