Details

Category: Arts & Culture
Published: Tuesday, 28 July 2020 08:30
Written by Nita Teoh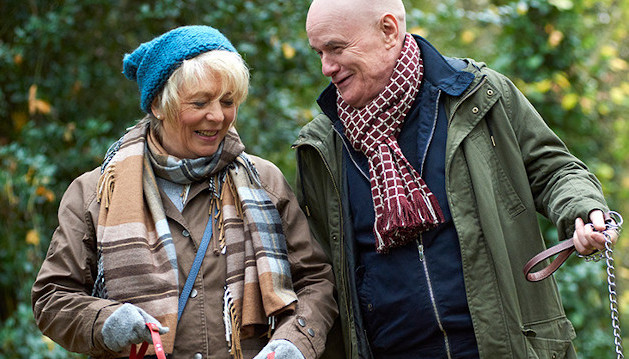 Dave (Dave Johns) and Fern (Alison Steadman)
Photo Credit: 23 Walks
Knowing that it's never too late to find love whatever your age, and throwing in for good measure some cute pooches with personality, and you've got the makings of a great feel good movie.

That is the essence of "23 Walks", which follows the relationship that blossoms between Dave (Dave Johns) and Fern (Alison Steadman) (both in their sixties) who get to know one another over the course of 23 dog walks.

It was the first time that my partner and I had been to the movies since covid-19 struck and it was a very nice experience to return back to Luna Leederville after what has seemed like an eternity.

There were quite a few interesting themes that were woven throughout the movie – love, the joy of owning dogs, and the challenges of growing old.

Love comes in many shapes and forms, and when it arrives later in life – each individual brings to the table some battle scars and baggage – but oftentimes are a little wiser about the intricacies and challenges of daily life.

The joy of dogs was well conveyed in the movie – articulating the camaraderie of dog owners and the special bond with their dogs. The walks through the heath and other parts of London and the changing of the seasons showcased some beautiful scenery.

The challenges of growing old was another dimension to the movie that came through, reflecting on embracing life for what it is, even though it may not always turn out the way we thought it would or the way that we had wished.

Director and Writer Paul Morrison has created a touching and poignant movie.

If you would like to watch a heartfelt movie with some very funny moments, a real sad scene or two, and an overall feel good buzz, then this will be a great pick.

And if you think that dogs add an extra special something to your life, then this movie will also make your day.

Don't forget to bring the tissues.

23 Walks open at Luna Palace cinemas around Perth on the 30 July.

If you enjoyed this article, please share it!


To find out about the hottest events in Perth, follow us at @PerthWalkabout