Details

Category: Arts & Culture
Published: Monday, 20 July 2020 10:54
Written by Nita Teoh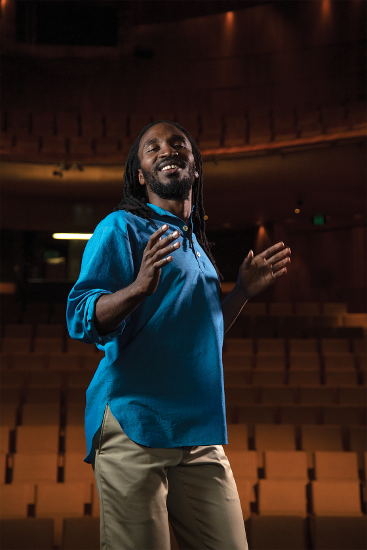 Opening night actor / writer Mararo Wangai
Photo Credit: Philip Gostelow
In a world premiere season, Co-Directors Emily McLean and Joe Paradise Lui have risen to the challenges of covid-19 in order to tell the story of some unique and every day West Australians who have achieved extraordinary things. "Unsung Heroes" is Black Swan State Theatre Company's first outing in its series of "Black Swan Home Theatre".

Emily and Joe have been encouraged to grow and adapt to working during covid times by transforming a series of staged monologues into a series filmed on stage, that will be live streamed during the next fortnight from tomorrow Tuesday 21 July onwards.

As Emily McLean Co-director of Unsung Heroes explains:

" Working closely with Joe Paradise Lui to ensure a shared language across the project that still has room for each individual story's quirks and demands has been a rare treat.

It has been freeing to have the ability to cut and zoom to a close up - like really, really close up.

Building a relationship with the audience member found down the barrel of the camera has been an interesting use of the form and the best (and only) possible path to our audience.

And in fact it isn't one audience member down there - we have put the whole Studio Underground audience onto one seat and we are telling the story to that seat."

The performances tell stories of courage, life's music, adventure, new beginnings and dignity and is a timely reminder of our shared humanity and of our uniquely Western Australian identity.

The works have been written by local playwrights Gita Bezard, Barbara Hostalek, Chris Isaacs, Hellie Turner and Mararo Wangai.


THE PROGRAM

The program line up is as follows:


7.30pm WST Tues 21 July OPENING NIGHT: Song in the Key of Trust by Mararo Wangai – Actor Mararo Wangai
A renowned musician follows his passion for song to a country far from the land of his birth.


7.30pm WST Wed 22 July: The Unremarkable and Ordinary Life of Carmela Caterina Tassone (Nee Panaia) by Chris Isaacs – Actor Chris Isaacs

Carmela Caterina Tassone is a woman that places aren't named after. Her name has never made newspaper headlines. You will never have heard of her. This is the story of her nondescript existence.

Playwright Chris Isaacs tells the story of one Italian immigrant woman, his grandmother, who survived many hardships and after WWII, brought her strength of character, commitment to hard work and love of family to this country.


7.30pm WST Thurs 23 July: The Perfect Boy by Gita Bezard – Actor Caitlin Beresford-Ord

From the stages of Subiaco to international acclaim, Effie Fellows wowed audiences around the world with her male impersonation act.

She was known as A Merry Masquerader, EFFIE the Nifty Entertainer, the Merry Madcap!, the Laughter specialist, the Whistler dancer, singer, and humourist. Along her adventurous way she married a clown and had a long affair with a boxer.

 
7.30pm WST Wed 29 July: Lesson in the Art of Butterfly by Hellie Turner – Actor Alison van Reeken

A courageous doctor risks all to shine a light on the right to choose to die with dignity.

This is the true story of Alida Lancee, the Perth doctor who came to the public's attention after admitting that, when a terminal and suffering patient had requested assistance to die (after palliative treatments failed to help), she had eventually agreed to help. Her actions galvanised the public debate on assisted dying in WA.


7.30pm WST Thurs 30 July: Own Way by Barbara Hostalek – Actor Jo Morris

She's strong. She's smart. She has a wicked sense of humour. Her story of survival has changed domestic violence laws across Australia.

Own Way is a true and honest story about Georgia Prideaux-Cera, who managed to get WA's first ever lifetime restraining order against her abusive partner. It's a harrowing story of survival against the violence of her attacks - which were spread over years, the worst of which happened after Georgia had left him.

Each Unsung Heroes monologue was filmed on stage. The pre-recorded performances will be live streamed for free to registered users from Tuesday 21st July.


Live Q&A by Resident Artist Ian Michael

A live Q&A facilitated by Resident Artist Ian Michael will follow each live stream.

All performances will also be made available on demand.

To watch the performances live streamed or on demand, registrations are essential.

Register via the website here: https://bsstc.com.au/plays/unsung-heroes

If you enjoyed this article, please share it!



To find out about the hottest events from Perth, follow us at @PerthWalkabout