Details

Category: Arts & Culture
Published: Monday, 14 February 2022 10:03
Written by Greg Letts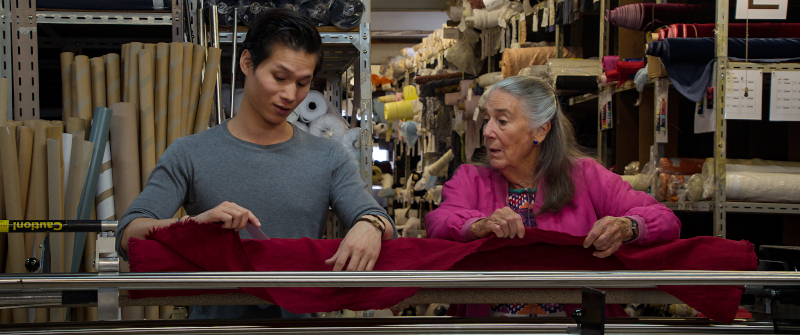 Hoa Xuande (as Hamish) and Maggie Blinco (as Liebe)
Photo Credit: A Stitch in Time
Now and again you get a movie that looks just OK in the trailer, but turns out to be so much better when viewed in full.  A Stitch in Time by Writer and Director Sasha Hadden is one such movie.

A Stitch in Time doesn't have lots of flashy clips that make for a great two minute trailer, but what it does have is a touching story filled with authentic characters, told exceptionally well.

The story revolves around Liebe (Maggie Blinco), an elderly housewife whose partner Duncan (Glenn Shorrock of Little River Band fame) loses his job singing at the RSL. Duncan is a self-centered and arrogant man, bitter about his lack of success and blaming other people for his failure to find an audience for his music.

In an attempt to raise money to finally record an album, Duncan reconnects with Justin, his old band-mate, and Christine, Justin's wife and part of the old bands entourage back in the early days. Duncan fights with Justin over who was to blame for breaking up the band, and leaves in a huff, but not before Christine and Liebe rekindle their friendship.

With money being tight, Liebe tries to help by making and selling clothes in the suburban markets, where she meets Hamish, a young designer who encourages her to follow her dream. But Duncan feels undermined by Liebe's venture, resulting in the couple arguing and Liebe leaving Duncan to go live in Justin and Christine's guest house.

There are of course more twists and turns along the way, as Liebe attempts to chase her passion and make a living out there on her own. The odds are stacked against her but with the help of some unexpected friendships can Liebe rise to the challenge? Or has she left it all too late?

A Stitch in Time is a peek into one average person's life, warts and all. It is a simple story (with a few surprises along the way!) but the writing and performances from the cast make for a moving and emotionally satisfying tale. Liebe's journey is just one among the millions of ordinary lives going on in Australia, but it shows how everybody is the star of our own little story, and how little kindnesses and good friends can make such a difference in our lives.

Just like the dresses Liebe makes, A Stitch in Time is a one of a kind creation, designed with heart, made with the best of materials and put together with love and attention to detail. Highly recommended, but bring a tissue or two!
A Stitch in Time opens at Luna Leederville and Windsor Cinema on Thursday 17 February.

If you enjoyed this article, please share it!


To find out about the hottest events in Perth, follow us at @PerthWalkabout