Details

Category: Arts & Culture
Published: Thursday, 03 February 2022 17:26
Written by Nita Teoh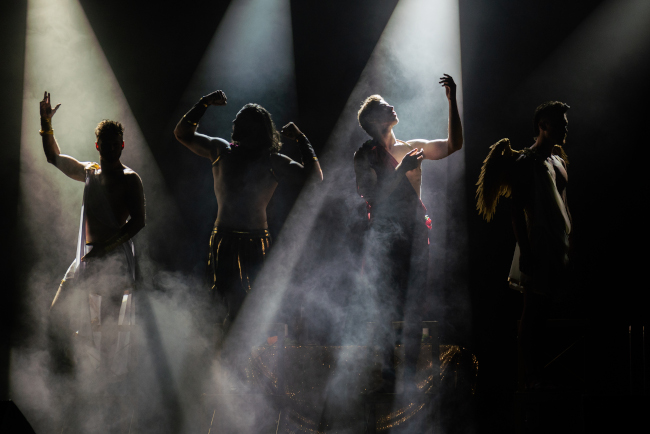 Thomas Gorham (as Apollo), Callan Harris (as Hercules), Jordan Twartz (as Dionysus), Liam Dummer (as Cupid)
Godz by Head First Acrobats at Fringe World Perth
Photo Credit: Naomi Reed

With the glow of the signature Fringe World pink bunny acting as a siren's call, my partner and I eagerly headed to the Girls School to watch the latest show Godz by Head First Acrobats.

The theme for the evening was Ancient Greece as the Gods: Cupid (God of Love), Hercules (God of Strength), Dionysus (God of Wine) and Apollo (God of the Sun, Music and Poetry) graced us with their presence.

The Head First Acrobats cast certainly looked the part of Gods – they are very athletic and fit! Add in their gymnastic mastery, their slapstick humour, and a large dash of naughty sex appeal – these guys are a winning team.

It's a party at full throttle until poor old Hercules gets sent to the underworld, as punishment for not inviting his father, Zeus. When Hades, the god of the underworld, refuses to co-operate with Zeus' plan, Hercules is then sent to the Christian hell, where there ensues a very hilarious scene – definitely not for those who are easy to offend religiously. Hercules triumphs in a climactic ending and ascends to full godhood at Olympus – with the evening of the hour's entertainment having sped by very quickly.

Top entertainment at break neck speed – combined with some heart pounding & racy soundtracks – these men will leave your heart skipping a beat or two (the women at the front of the audience certainly thought so!) - as you watch their death defying feats of acrobatic brilliance!

Go Head First Acrobats! Thank you for coming to Fringe again this year. You guys rock.

Godz by Head First Acrobats is on at Fringe World Perth till the 13 February.
If you enjoyed this article, please share it!


To find out about the hottest events in Perth, follow us at @PerthWalkabout