Details

Category: Arts & Culture
Published: Tuesday, 12 January 2021 11:15
Written by Nita Teoh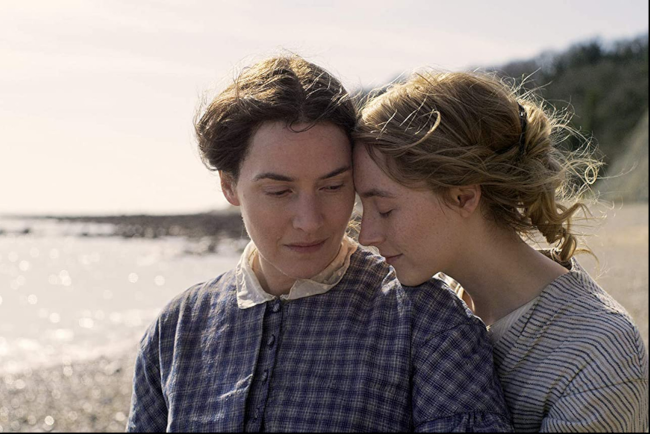 Kate Winslet (as Mary Anning) and Saoirse Ronan (as Charlotte Murchison)
Photo Credit: Ammonite
Career or love ? - which would you choose?

Women in the 19th century did not have many options in their romantic lives, let alone their choice of a career.

Ammonite - Francis Lee's latest film – examines the role of women in Victorian England, and will hit the screens soon at Luna Palace Cinemas.

Set in the UK in the 1850's, Ammonite is a powerful story of love with a few interesting twists along the way.

Mary Anning is a middle aged, single lady who lives with her mother and is immersed in her career as an avid paleontologist. She wanders the cliffs of Dorset by day searching for rare fossils of ammonites and other creatures, having gained a reputation in scientific circles for being one of the best in the field, though she has been credited with little recognition because of her sex.

Ammonite is breathtakingly beautiful both for its rugged coastal scenery and the intense on screen interplay between the two main leads in Mary Anning (Kate Winslet) and Charlotte Murchison (Saoirse Ronan) – what starts out as a reluctant service for a customer's young wife transforms into a passionate affair.

The story fleshes out some interesting themes – some contemporary and other themes a reflection of the period.

Mary's career is challenged when she has an unexpected passionate affair. Career or love? Can you have both? It's still a modern day dilemma that many women face.

A lot of things on paper defy their love – their age difference, their gender, societal status and life circumstances.

Francis Lee exquisitely portrays their explicit love and sensual passion for each other with uncut rawness and heightened emotional intensity without any sugar coating.

Of late, both Ammonite and A Portrait of a Lady on Fire bring to the fore some outstanding lesbian romance movies.

If you are after a passionate and intense love story, and enjoy immersing yourself in movie that unfolds at a leisurely pace, then Ammonite is a great pick.

Lee has crafted a deeply emotional and passionate story that has his unique signature stamp on it akin to his award winning God's Own Country.

Francis Lee hits the mark again with his latest film Ammonite.

Ammonite opens at Luna Palace Cinemas on the 14 January.
If you enjoyed this article, please share it!


To find out about the hottest events in Perth, follow us at @PerthWalkabout