Details

Category: Arts & Culture
Published: Saturday, 16 January 2021 11:32
Written by Greg Letts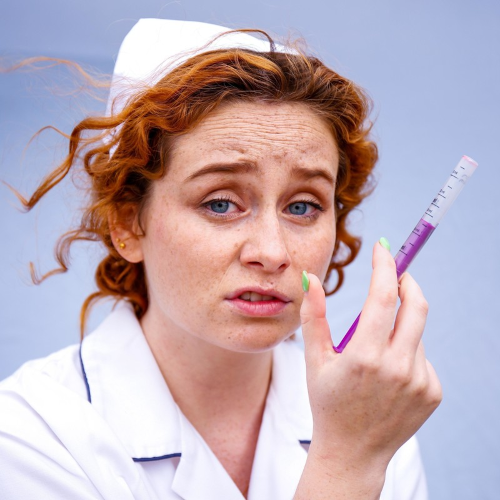 Do I Look Like I Care, Fringe World Perth 2021
Photo Credit: Bear Hands Co.
After fighting my way through the heavy Fringe World opening night traffic, which resulted in a faraway parking spot and a dash through the Perth Cultural Centre, I snuck into Rehearsal Room 1 at the State Theatre Centre at 8.01pm to watch Do I Look Like I Care? - a love letter to the people in the world of nursing and care.

I nearly had a panic attack there and then, since instead of a comedy about nursing, I was watching an aerobics warm up session – oops, wrong rehearsal room perhaps?

But no, it turns out I was in the right place after all, and as I cooled down the performers finished their warm up and launched into the show.

Right from the start, it is clear that this is not a glitzy tv style production – this is much more down to earth and true to life – as evidenced by a number of appreciative wry laughs from an audience that I suspect held more than a sprinkling of care industry people enjoying a cathartic chuckle.

They say that laughter is the best medicine, and while Do I Look Like I Care? provides plenty of giggles, grins and even guffaws over its one hour running time, there are also a few touching and tragic moments depicted that show that the job has its tough moments too.

As you can imagine, the potential for physical comedy in a show about nursing is well exploited, but there are also a number of zingy one liners and clever scenes inserted into the body of the show.

The cast and crew work hard to bring a smile to the audience's faces, and the snazzy dance number at the end is a fitting and uplifting finale to a show with heart (don't ask whose!).

It is a fun night out and will leave you with a grin and a stomping 80's song stuck in your head all the way home – what more could you ask for?

Do I Look Like I Care is on as part of Fringe World Perth - catch the show from tonight Saturday 16 January through to Tuesday 19 January.

If you enjoyed this article, please share it!


To find out about the hottest events in Perth, follow us at @PerthWalkabout