Details

Category: Arts & Culture
Published: Tuesday, 22 December 2020 16:57
Written by Nita Teoh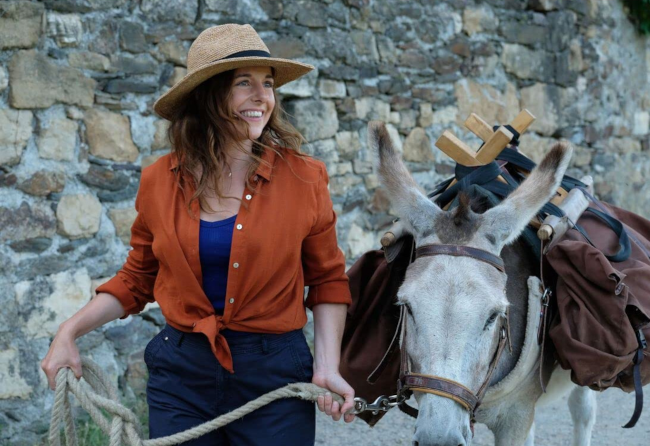 Laure Calamy
Photo Credit: Antoinette in the Cevennes
Love for a man...

Love for a donkey...

what could go wrong?!

Perth Festival's movie this week at UWA Somerville Theatre is "Antoinette in the Cevennes", a delightful feel good movie about the pursuit of a lover (a man) and an unexpected love that grows with an animal companion !

Antoinette takes a multi day hike in the Cevennes hoping to bump into her lover who has gone on holidays with his wife and daughter (whom also happens to be one of Antoinette's school students).

With much laughter, we follow Antoinette on her hilarious adventures – meeting her companion on the hike – Patrick the donkey, and her fellow hikers who are only too interested in Antoinette's love life!

The lead Laure Calamy is breathtakingly fresh in her role and her special bond with Patrick the donkey is magical and hits the funny bone.

If you are looking for a feel good romantic comedy in a gorgeous setting, then this will be an excellent pick to watch and spend a relaxing evening under the magical pines of the UWA Somerville Auditorium.

Cap it off with a picnic or a pizza or two from Charlies Pizza before the movie starts and you've got a perfect evening with family and friends.

Due to covid protocol and seating restrictions, it is advisable to pre book your ticket for the specific movie that you would like to watch via the Perth Festival website.

Antoinette in the Cevennes shows every night this week at UWA Somerville Theatre till this Sunday 27 December (except for Friday 25 December).

See you at UWA Somerville for the Lotterywest Perth Festival film season. 
If you enjoyed this article, please share it!


To find out about the hottest events in Perth, follow us at @PerthWalkabout