Details

Category: Arts & Culture
Published: Saturday, 30 November 2019 09:22
Written by Greg Letts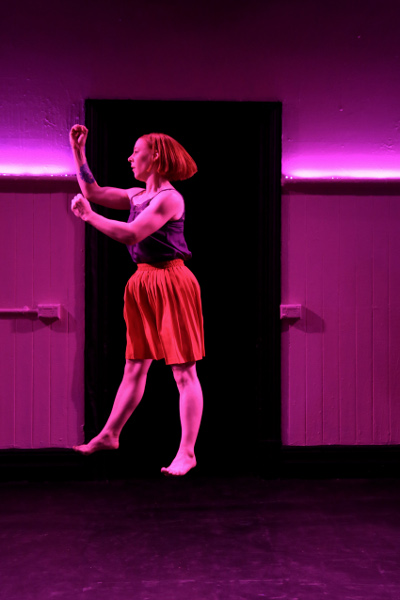 Bernadette Lewis
Photo Credit: Bang! Bang!

Standing on the balcony outside The Blue Room Theatre, my partner and I mused on what we were about to witness during the performance of Bang! Bang!, a theatrical dance double-header. Not being dance devotees, we were interested in how the cast and crew would bring the two pieces, Love You, Stranger and Act 2, Scenes 1-4 to life.

Prior to settling into our seats, we crossed a stage stripped bare of props and scenery apart from a half-dozen or so black wooden boxes. The focus was undoubtedly on the three cast members, dressed in garb reminiscent of Victorian era dresses. Love You Stranger presents the fates of three women of those times who were brought to trial for murder, and provides a commentary on our own modern issues of public shaming.

As you can imagine, attempting to do this via the medium of dance, with only a few snippets of recorded dialogue and accompanying music, requires a heroic effort on the part of the production cast, and a willingness of the audience to engage and interpret what they are viewing. Love You Stranger has a mood and flow to the movements that resonates deep down in the subconscious. And while some parts of the dance were fairly obvious in what they were depicting, others were more nebulous and open-ended, especially to a dance neophyte like myself. So while I am sure there were many nuances that escaped me, Love You Stranger still left an unsettling impression.

The sombre mood of the audience was then lifted by a brief interlude of popcorn served by cigarette girls, setting the scene for the commencement of Act 2, Scenes 1-4, "a mischievous take on Wes Anderson's The Grand Budapest Hotel...". This proved to be a fun and innovative translation of film to dance, with the performers managing to imitate many cinematic techniques in a live setting. While perhaps not as deep as Love You, Stranger, I found Act 2, Scenes 1-4 more than made up for it in glitz and glamour, as the cast worked frantically to convey a full scale film production with nary a prop in sight!

Overall Bang! Bang! is an intriguing juxtaposition of two thematically quite different productions. Clocking in at around 55 minutes, it certainly doesn't outstay its welcome, so if you are somebody unversed in dance but willing to expand your horizons, it provides an interesting and entertaining night out.

Bang! Bang! is showing at The Blue Room Theatre till 14 December.

To find out about the hottest events around Perth, follow us at @PerthWalkabout

If you enjoyed this article, please share it!