Details

Category: Arts & Culture
Published: Wednesday, 20 November 2019 10:27
Written by Nita Teoh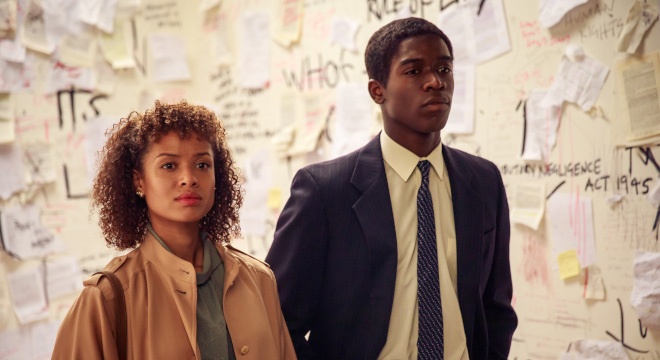 Gugu Mbatha-Raw (as Ms Dapo) and Damson Idris (as Enitan)
Photo Credit: Farming
Based on an autobiographical story by writer-director Adewale Akinnuoye-Agbaje, Farming centres around the story of Enitan, a young Nigerian boy growing up in the UK last century.

During the 1960's to 1980's a practice called "farming" took place, whereby Nigerian families fostered out their children to working class white families in Britain, so that they could focus on work, study and saving money.

As the movie unfolds, we are thrown into Enitan's childhood and coming of age story which one can only best describe as turbulent.

He is alone and a misfit – caught between cultures, and subject to constant racism. When he gets drawn into the world of a racist and violent skinhead gang, it starts a sequence of events that lead to pointless repeated violence and tragic circumstances.

The movie Farming is confronting and the raw emotion that oozes from the screen depicts a brutal picture of a difficult childhood and of one young man's experiences of growing up in a foster family while trying to find a sense of self-identity.

It challenges and provokes the movie goer to question the acts of racism, its senselessness and the dangers of gang mentalities.

It also delves into the complex world of fostering, and the difficulties that are posed for both the young child and the various parties involved, such as the foster parents and the biological parents. Underlying these challenges, there is an added complexity that transracial fostering brings to the table with its cross cultural identity issues.

Hard hitting and confronting – the movie Farming is not for the faint hearted. But tell a gruelling and real story it certainly does.

Happily, it did have a good ending - but not without many tumultuous twists and turns along the way.

Farming opens at Luna Palace Cinemas in Perth on the 21st November. 

If you enjoyed this article, please share it!


To find out about the hottest events around Perth, follow us at @PerthWalkabout