Details

Category: Arts & Culture
Published: Monday, 28 January 2019 12:12
Written by Nita Teoh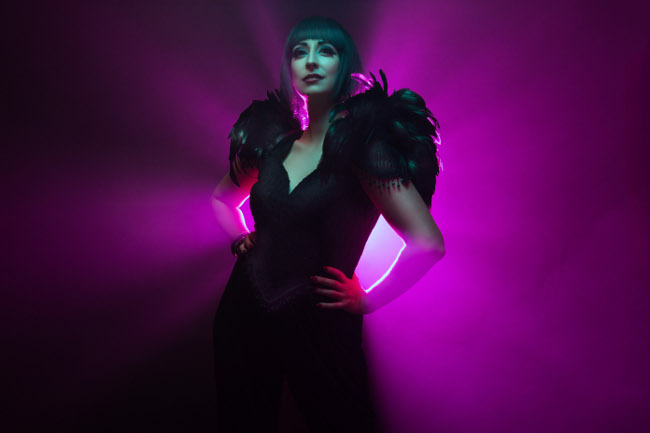 Bernie Dieter, Little Death Club
Photo Credit: Scott Chalmers
Anyone for some hot and spicy?
Not of the KFC variety and although the weather in Perth has been hotting up, the Little Death Club show at Fringe Perth hit way higher temperatures on the thermometer yesterday evening.
It was another balmy summer's night as my partner and I headed towards the Edith Spiegeltent at Yagan Square. As we walked along William St, the Sauma Restaurant on the corner was heaving, and punters at Chico were busily queuing up for their gelato fix.
Inside the festive Spiegeltent, after a somewhat unexpected intermission due to an audience member's intoxication getting the better of her, the show gathered momentum and introduced Perth to the best of modern dark cabaret.
Heading up the show was chief hostess Bernie Dieter – quite a character who is lusciously funny with a wicked sense of humour. She commanded the stage with her excitable demeanour and sexy style, and we couldn't help but get drawn into her adventures.
Thankfully, my partner and I were safely camouflaged in the middle of the crowded audience, well away from Bernie's predatory gaze as she prowled the Spiegeltent in search of victims – err, make that participants - to assist her with her act.
As the evening progressed to a thunderous climax, we were introduced to all of the wonderful, dark and slightly off beat characters of the Little Death Club. Gingzilla the 7 foot drag queen made her powerful presence felt dressed in her red sequined dress complete with stilettos. The contortionist Beau Sargent put his body through a performance that was as painful looking as it was impressive.
Speaking of pain, add in the antics of Kitty Bang Bang and showgirl Leah Shelton with her fire breathing act, and the audience was left gasping, smiling, befuddled, laughing, in shock, and for some - possibly more enlightened than they had bargained for.
As well as being chief hostess for the evening, Bernie Dieter sung some great original tunes with her amazing voice, and her creative ad lib of the show script ran smoothly without a hitch.
Little Death Club is wicked and funny and perhaps can best be described as a tantalisingly decadent taste of dark cabaret with fruits & nuts.
It will be an entertaining evening that you won't forget in a hurry!
Little Death Club is on at Perth Fringe till the 2 February.
If you enjoyed this article, please share it!



To find out about the hottest events around Perth, follow us at @PerthWalkabout