Details

Category: Arts & Culture
Published: Friday, 26 August 2022 09:09
Written by Lee-Ann Khoh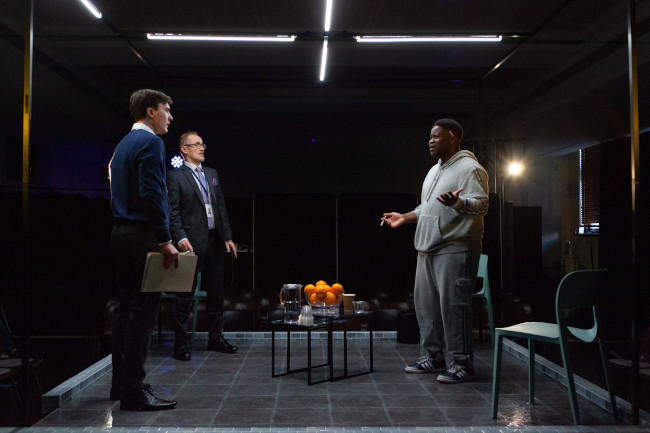 Jarryd Dobson (as Bruce), Andrew Lewis (as Robert), and Tinashe Mangwana (as Christopher) in Blue Orange by Theatre 180
Photo Credit: Stewart Thorpe Photography
The chilly night air seems a world away as we enter Burt Memorial Hall and take a seat around the edges of a stage, like hungry spectators at a boxing match.

In Joe Penhall's award-winning play Blue/Orange, we meet Christopher (played by Tinashe Mangwana) – a young black man who's spent the last 28 days in a psychiatric hospital in London. He's supposed to be getting out tomorrow, but trainee psychiatrist Bruce (Jarryd Dobson) doesn't think he's ready. After all, Christopher thinks oranges are blue and that his father is Ugandan dictator Idi Amin.

On the other hand, senior consultant Robert (Andrew Lewis) – the ultimate bureaucrat – is keen for Christopher to return to his community, wherever that may be. They don't have enough beds, and besides, what if Bruce is just applying a white lens to Christopher's behaviour and calling it schizophrenia?

This disagreement of professional opinion turns increasingly personal over the course of the play, rendering Christopher a political football between the two white men. Rising tensions culminate in an explosive confrontation between supervisor and trainee, doctor and patient, black man and white institution – leaving us second guessing what's "right" and what's "crazy".

During the intermission, I stepped outside to get some fresh air and noticed a man sleeping rough, who could easily have been Christopher. I saw the Council House across the road, lit up in the colours of the Ukraine flag. I noted how easy it was for someone like me to escape the cold, to get appropriate treatment for my mental health, to find what I need to thrive – and how someone like Christopher often doesn't get the same opportunities.

Blue/Orange is a masterful, thought-provoking play that is both hilarious and deeply uncomfortable in turn. It remains a sadly relevant exploration of race, prejudice and mental illness more than two decades after it debuted in the UK.

Blue/Orange, presented by Theatre 180 in this WA premiere season, is on at the Burt Memorial Hall until 3 September. 
If you enjoyed this article, please share it!


To find out about the hottest events in Perth, follow us at @PerthWalkabout