Details

Category: Arts & Culture
Published: Sunday, 16 October 2022 10:35
Written by Lee-Ann Khoh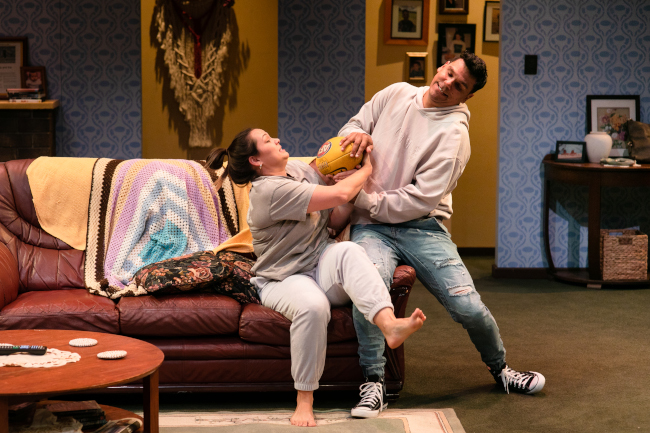 Ebony McGuire, Ian Wilkes
Photo Credit: Daniel J Grant

I have a somewhat complicated relationship with Australian rules football.

I was obsessed with footy during my teens and early 20s. I spent many a weekend at mud soaked WAFL grounds, running on during the quarter time and three-quarter time huddles to listen to the coaches, and yelling incomprehensible encouragement (I think) until my throat hurt. As time went by, I developed other interests, became a more rounded person (I hope) and started to realise that there were people dear to me who probably wouldn't be safe at a footy club.

Which brings me to Barracking for the Umpire.

Early on, we're introduced to AFL player Ben (played by Ian Wilkes) and his teammate Eckhart (Joel Jackson) in an over-the-top cacophony of blokeyness. We soon find out they are secretly in a romantic relationship with each other – something Ben is not keen for the world to know. Footy has always been his safe space… and coming out could well ruin that for him.

But that's just one part of this beautifully layered 90-minute play.

Ben and his sports journalist sister Mena (Ebony McGuire) are both flying home to WA to celebrate their father Doug (Steve Le Marquand), who is being honoured with a Lifetime Achievement Award at the Donnybrook Football Club. But a long career of hard knocks has taken its toll. Doug's long-suffering footy tragic wife Delveen (Pippa Grandison) has stood by him through it all, while eldest daughter Charaine (Jo Morris) stayed in Donnybrook but rejected footy – and club boss Tom (Michael Abercromby) – after seeing what the game did to her dad.

Le Marquand is particularly superb in a heart wrenching performance as the dazed, confused, faltering legend, and Jackson (in a dual role) is memorable as the ghost of coaches past. Barracking for the Umpire is timely, as discussions rage about whether the game is "going soft", the long-term effects of concussions on former players, and what it means to be a man in a man's game.

As for me, I still love watching footy but I found myself relating to Doug and Delveen's children in different ways – Ben fearing the loss of his sense of belonging, Mena wanting to make a difference after being denied the chance to play footy as a girl, and Charaine realising there's a lot more to life.

Barracking for the Umpire by Andrea Gibbs, and presented by Black Swan State Theatre Company, is on at Subiaco Arts Centre until 23 October.
If you enjoyed this article, please share it!



To find out about the hottest events in Perth, follow us at @PerthWalkabout