Details

Category: Arts & Culture
Published: Monday, 09 November 2020 10:23
Written by Nita Teoh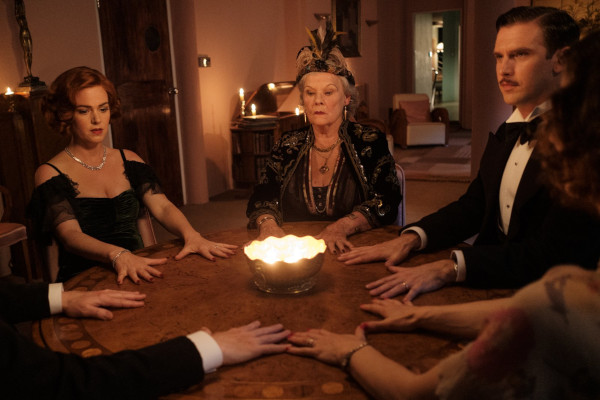 Photo Credit: Blithe Spirit
Mark your calendars - tomorrow is the day !

The British Film Festival opens tomorrow across all Luna Palace cinemas in Perth - Palace Raine Square, Luna Leederville, Luna on SX and Windsor Cinema.

Returning for its 7th year – it offers an outstanding selection of 22 feature films from the British Isles – ranging from powerful stories set during war times, to modern, romantic comedies to 4k restorations of The Elephant Man, Flash Gordon and The Ladykillers.


Perth Walkabout's Top Picks
Perth Walkabout's Top 6 Picks for the British Film Festival this year are:


Blithe Spirit
" A riotous reimagining of Noël Coward's classic comedy from director Edward Hall, Blithe Spirit tells the story of a love that just won't die.

Best-selling crime novelist Charles (Dan Stevens, Downton Abbey) is suffering from terrible writer's block amidst a looming deadline for his first screenplay. His picture-perfect new wife Ruth (Isla Fisher, Confessions of a Shopaholic) is doing her best to keep him focused in the hope of fulfilling her dream of leaving London for Hollywood.

Charles' quest for inspiration leads him to invite the eccentric mystic Madame Acarti (Dame Judi Dench in her funniest role in years) to perform a séance in his home, but he gets more than he bargained for when Madame Acarti accidentally summons the spirit of his deceased first wife: the brilliant and fiery Elvira (Leslie Mann, This Is 40).

Shocked to discover the prim and proper Ruth is now married to her husband, the determined Elvira embarks on a mission. Charles finds himself stuck between his two wives in an increasingly comical and deadly love triangle in this lethally hilarious comedy. "


A Christmas Gift from Bob
" A heart-warming tale of friendship, A Christmas Gift From Bob is a Christmas-themed follow-up to 2016 crowd-pleaser A Street Cat Named Bob.

Based on the book by former Big Issue seller James Bowen, the first film told the story of how a stray ginger cat changed the life of James (Luke Treadaway, reprising his role from the first film), a homeless London street musician and recovering drug addict, beginning a friendship which transformed both their lives.

A Christmas Gift From Bob sees James looking back at the last Christmas he and Bob spent scraping a living on the streets in London. As they spend a cold and challenging December on the streets, James draws strength and inspiration from Bob, his friendship helping him get through tough times.

Directed by Charles Martin Smith (Dolphin Tale, A Dog's Way Home), A Gift From Bob is a delightful story about how a stray cat helped a man learn the true meaning of Christmas. "


Ammonite

" In 1840s England, acclaimed but overlooked palaeontology pioneer Mary Anning (Kate Winslet) works alone on the rugged and brutal Southern English coastline. With the days of her famed discoveries behind her, she now searches for common fossils to sell to tourists to support herself and her ailing mother. When a wealthy tourist, Roderick Murchison, arrives on the first leg of a European tour he entrusts Mary with the care of his wife Charlotte Murchison (Saoirse Ronan), who is recuperating from a personal tragedy.

Mary, whose life is a daily struggle on the poverty line, cannot afford to turn him down. Proud and relentlessly passionate about her work, Mary initially clashes with her unwelcome guest. Yet, despite the distance between their social class and personalities, an intense bond begins to develop, compelling the two women to determine the true nature of their relationship, altering the course of both lives irrevocably.

An absorbing drama filled with 19th Century yearning, Ammonite is Francis Lee's second film after his impressive multi-award winning debut God's Own Country (2017). "

A movie in a similar vein to a Portrait of a Lady on Fire.


Six Minutes to Midnight
" In the summer of 1939, school teacher Thomas Miller (Eddie Izzard) takes a last minute role teaching English at the Augusta-Victoria College, Bexhill-on-Sea, a finishing school on the south coast of England. Despite the political storm clouds forming across Europe, daughters of influential families in Nazi Germany learn deportment, Shakespeare and how to be faithful members of Hitler's League of German Girls.

Under the watchful eye of their headmistress Miss Rocholl (Dame Judi Dench), and her devout assistant Ilse Keller (Carla Juri, Blade Runner 2049), the girls practice their English and learn how to represent the ideal of German womanhood. With a new world war imminent and a fog of resentment surrounding their presence, youth's summer is running out for the girls...and for everyone.

When the body of a former teacher is discovered, it triggers a sequence of deadly events where the girls and Miss Rocholl discover a world where loyalty is more important than truth.

An astonishing real-life tale Six Minutes to Midnight sees the very best in British screen craft allied with the brightest young acting talent from Europe, and will have you on the edge of your seat. "


The Warrior Queen of Jhansi
" An epic historical drama, Warrior Queen tells the incredible true story of Lakshmibai, the historic Queen of Jhansi who fiercely led the fight against the British East India Company in the infamous Sepoy Mutiny of 1857.

As a young woman, Lakshmibai (Devika Bhise, who co-wrote the film with director Swati Bhise, her mother) married the Maharaja of Jhansi, Gangadhar Rao, and became the Rani (Queen). Facing increasingly oppressive British troops, Rani Lakshmibai defies British East India Company rule, allying with betrayed soldiers to form the Indian Rebellion.

Meanwhile, Queen Victoria (Jodhi May) and Prime Minister Lord Palmerston (Derek Jacobi) rely on East India Company's ranking officer, Sir Hugh Rose (Rupert Everett, The Happy Prince BFF18) to negotiate - or crush the rebellion.

The passion to free her province from colonial rule led Lakshmibai to become one of the greatest generals of the Indian army, going down in history for her bravery, strategic acumen and as a force to reckon with. A female-driven story, on and off-screen, Warrior Queen is the story of a woman who lived, fought and died for the freedom of her people. "


Then Came You

" A sweet romantic comedy, written by and starring Kathie Lee Gifford, Then Came You tells the tale of a lonely widow who plans a trip around the world.

Suddenly widowed after a 32-year marriage, Annabelle Wilson is alone. While reading her husband's will, she discovers his wish to be cremated and have his ashes put in 'a box of chocolates' because Forrest Gump was his favourite movie. Deciding to fulfill her own dream, Annabelle makes a list of their favourite 20 movies, sells her house and hardware store, leaving her life in Nantucket behind.

She travels to Scotland first, in honour of Braveheart, where she is stunned and seduced by the sheer beauty of the Scottish countryside. In Loch Lomond she checks into an inn owned and operated by a crusty, weathered Scotsman, Lord Howard (Craig Ferguson). Polar opposites, Annabelle and Howard develop an unlikely friendship, changing their lives forever. But their second chance at love is complicated, as Howard is scheduled to be married at the end of the week.

A natural chemistry simmers between the two stars in Then Came You, an amusing story of loneliness and new beginnings. "

The British Film Festival will run from the 10 November to the 29 November at Palace Raine Square, Luna on SX, Luna Leederville and Windsor Cinema.

#BFF20 #BestofBritish

If you enjoyed this article, please share it!


To find out about the hottest events in Perth, follow us at @PerthWalkabout