Details

Category: Arts & Culture
Published: Wednesday, 23 June 2021 14:16
Written by Nita Teoh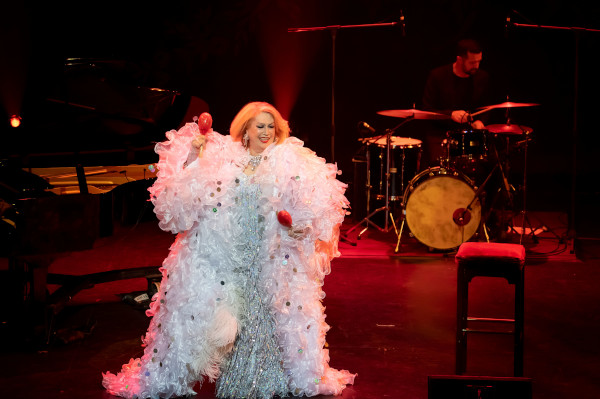 Carlotta The Party's Over - Perth International Cabaret Festival
Photo Credit: Vanessa Cooper

A bit saucy, a bit spicy, a bit naughty...Carlotta is a unique on stage presence who knows how to wow the crowds.

Not a surprise – since she has been entertaining the masses with her glittery presence, glamour and sharp wit over a career spanning more than 60 years.

She started as a teenage member of Les Girls in Sydney's Kings Cross, after spending her early years growing up in the suburb of Balmain, alongside Olympic swimmer Dawn Fraser.

Carlotta was instrumental in the early days of the drag movement – a tradition that has stood the test of time and evolved in many ways to its current day form.

Her stories are colourful and entertaining, her tunes are sung with fun and frivolity.

The crowds lapped it up at the beautiful His Majesty's on an otherwise quiet weekday evening on Hay Street.

Accompanied by the talented Michael Griffiths on piano (not to steal the limelight from the lovely Carlotta! ) who more than held his own with his singing, the night was a very entertaining one – a highlight of the inaugural Perth International Cabaret Festival.

Perth audiences were very appreciative of Carlotta's shenanigans – taking it all in their stride.

Though the party may be over for her on stage performances – one might surmise whether Carlotta will be able to sit still for long! On a stool or otherwise...

It's always good to have a laugh...and Carlotta provided many laughs and reminiscences and more with stories of her fame, amidst a very interesting and successful career.

If you're reading this review Carlotta (OA) – you're are looking as beautiful as ever!

The Perth International Cabaret Festival runs till 27 June.
If you enjoyed this article, please share it!


To find out about the hottest events in Perth, follow us at @PerthWalkabout