Details

Category: Arts & Culture
Published: Thursday, 13 October 2022 09:11
Written by Nita Teoh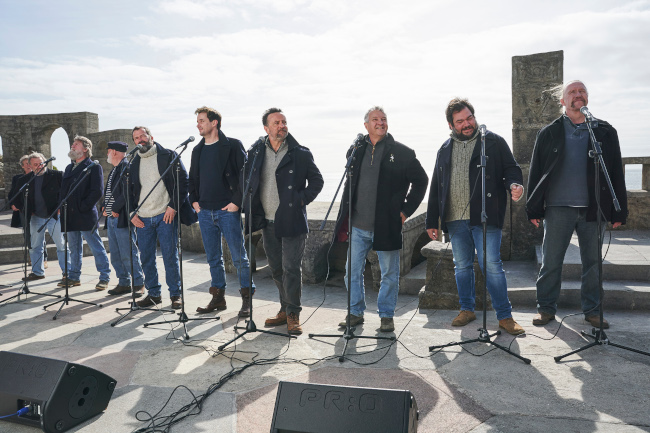 Fisherman's Friends 2: One & All
Photo Credit: Cunard British Film Festival 2022

As my partner and I walked across from Northbridge into the Perth CBD and headed towards Palace Cinemas in Raine Square, we watched the hustle and bustle of the daily grind come to the end of the day as workers scurried home on foot, e-scooter, train or bus.

We were looking forward to watching the preview of Fisherman's Friends 2: One & All as part of the Cunard British Film Festival (BFF), which celebrates its 10th year anniversary this year.

Here is our review of Fisherman's Friends 2: One & All and Perth Walkabout's favourite picks for BFF22 :



Fisherman's Friends 2: One & All

Heart warming and funny best describes Fisherman's Friends 2 One & All which follows the adventures of a singing group of grizzled Cornish fishermen who are on the brink of a breakthrough with their second album – if they can get it released!

No pressure at all as the band's big label demands all sorts of PR and appropriate behaviour from the band if they wish to rise to stardom!

The band's leader Jim (James Purefoy, Fisherman's Friends BFF19) is not without his share of life's challenges – grieving over the loss of his father, battling loneliness, dealing with his concerned and slightly domineering Mother, all the while trying to keep the band on track and find a replacement singer.

I especially enjoyed watching the budding romance unfold between Jim and Aubrey Flynn (played by real-life Irish singer-songwriter Imelda May) as each of them helped the other to deal with their own personal baggage.

The movie Fisherman's Friends 2: One & All will melt your heart along with the joy of soaking up the spectacular scenery of the small village coastline as you watch it. Not to forget that it's a treat for your ears with a number of wonderful sea shanties included throughout the film.
 
Emily
Most of us in our readings would have encountered the well known English literature classic Wuthering Heights by famous English novelist and poet Emily Jane Brontë.

We are lucky to have the biography of Emily Brontë brought to the cinematic screen by British-Australian Director Frances O'Connor in the movie Emily. Famous for her actor roles in A.I. Artificial Intelligence (2001), The Importance of Being Earnest (2002), and Timeline (2003) this is her first debut as a Director.

This fascinating tale takes us on a journey back to 19th Century England with actress Emma Mackey in the lead role as Emily.

It is an intriguing story that explores the many challenges and obstacles that Emily faced during the 19th Century period in England as she navigated the status quo – one rooted in sexism and a strict patriarchy.



In from the Side

Directed by Matt Carter and written by Australian Adam Silver, the much awaited In from the Side follows an affair between two members of a South London gay rugby club.

Mark (Alexander Lincoln, Everything I Know About Love) is a new club member who is in a dysfunctional relationship with his wealthy and distant partner Richard (Alex Hammond).

He becomes entwined with the more seasoned rugby player Warren (Alexander King) who is in an established but strained relationship with his partner and fellow teammate John.

A tender exploration of identity and longing within the settings of a competitive sports environment.

Official selection: BFI Flare: London LGBTQIA+ Film Festival 2022

 
Aisha
Aisha (Letitia Wright, Black Panther, Death on the Nile), seeks asylum in Ireland from her Nigerian homeland.

Lost in the complexities of bureaucracy she befriends Connor (Josh O'Connor, Mothering Sunday BFF21, The Crown).

Both Aisha and Connor are emotionally challenged to maintain their relationship as Aisha's struggles to seek asylum intensifies.

Writer director Frank Berry has crafted an incredibly touching account of the mammoth challenges that asylum seekers face as they navigate Government processes in their plight to find a place to call home.

Official selection for the Tribeca Film Festival 2022


A Bird Flew In
Covid … pandemic … another lockdown!

There are not many of us globally who have not experienced the plight of the pandemic.

In A Bird Flew In, Director Kirsty Bell examines our need for human intimacy and validation during isolation.

When a lockdown is announced, the cast and crew of a feature film are sent home – alone. They are actors with no audience, production crew with no set and directors with no script.

Couples fall apart, others come together, and some find they are simply alone.

This film explores our desire for meaning and how art can often provide hope.

A Bird Flew In is a topical movie to reflect on, in light of the recent times of the global pandemic that we have gone through.



What's Love got to do with it? (Closing Event)




"What's Love got to do with it?" is an upbeat romantic comedy that follows filmmaker and dating app addict Zoe who decides to document her best friend Kaz's journey towards an arranged marriage.

Director Shekhar Kapur and Writer Jemima Khan explore the notion of love, romance and of finding that special someone within the context of a young British man living in London from a Pakistani family that has strong cultural traditions about assisted marriage.

The film co-stars Lily James (Rebecca, Darkest Hour) and Shazad Latif (The Second Best, Exotic Marigold Hotel).

From the makers of Love Actually and Four Weddings and a Funeral, it is a perfect film for movie goers looking for something light and bright.


The Cunard British Film Festival runs from the 19th October to the 16th November 2022 and will be showing across multiple locations - Luna Leederville, Luna on SX in Fremantle, Windsor in Nedlands and Palace Cinema Raine Square in the Perth CBD.

#britishfilmfest

If you enjoyed this article, please share it!