Details

Category: Arts & Culture
Published: Friday, 16 December 2022 14:28
Written by Nita Teoh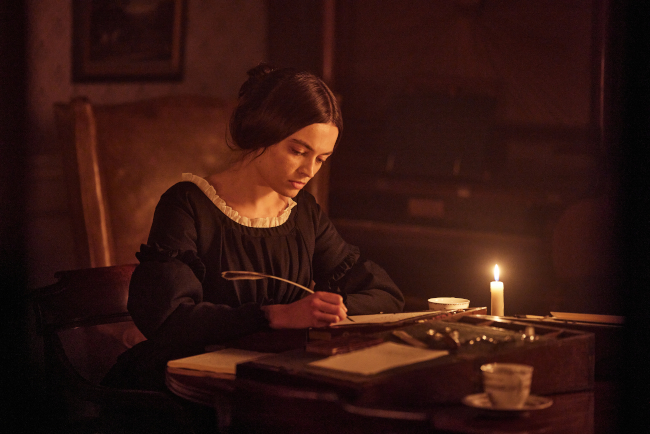 Emma Mackey (as Emily Bronte)
Photo Credit: Emily
Movie buffs who missed watching Emily at the Cunard British Film Festival in Perth last year will be happy to hear that it will be screening at Luna Cinemas very soon.

Emily as in Emily Brontë, the English novelist and poet (1818-1848) who wrote the classic love story Wuthering Heights.

Most of us have heard or are familiar with Wuthering Heights – however, not many of us know a great deal about what Emily Brontë's life might have been like.

Australian-English actress Frances O'Connor (who originally hails from Perth) in her directorial debut, brings to life the biography of Emily Brontë  to tell the colourful and vivid story of her coming of age.

Dubbed "the strange one" by villagers – Emily was an introvert and quietly intellectual as well as being at the same time rebellious and wild – she was markedly different from her sisters Charlotte and Anne and brother Branwell.

Drama upon drama unfolds as we get an insight into the unique relationships that she might have had with her family – her father who was a Pastor, and the bond with her sisters and brother.

France O'Connor brings Emily to the fore of the cinematic screen – giving audiences a delightful and easy to watch film.

It was lovely to see the legendary Gemma Jones feature in this film – having recently seen her play the part of Molly Anning in Ammonite.

Frances O'Connor's own version of Emily is based on her own script – part fact, part biography and part creative licence (fiction), and captures the spirit and essence of who Emily might have been.

Immerse yourself for a couple of hours in a moving portrait of the life and turbulent times of Emily Brontë and you will be likely to come out with a different perspective on what her formative years might have been like.

Emily opens at Luna Cinemas on 12 January.

You can also catch the special screening of Emily which will be followed by a Q&A led by critic Mark Naglazas with Frances O'Connor on the 17th December.

If you enjoyed this article, please share it!


To find out about the hottest events in Perth, follow us at @PerthWalkabout