Details

Category: Arts & Culture
Published: Friday, 18 November 2022 10:44
Written by Nita Teoh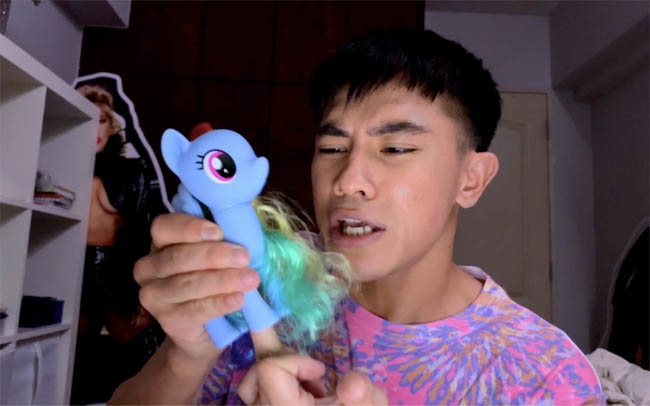 Yao (as Sean Marzuki above), Look at Me
Photo Credit: EKO Pictures
Look at Me is currently banned in Singapore...this interesting snippet provided me with some food for thought – as my friend and I headed to Windsor Luna in Nedlands to watch a one-off special screening of the film as part of PrideFEST events this week.

Look at Me recently premiered at the New York Asian Film Festival and we have been rather lucky to have it brought to Perth by PRIDE WA for its Australian Premiere.

In the film, director Ken Kwek takes a contemporary look at what it is like to be gay in Singapore.

The story starts off with a seemingly normal family scene - a single Mum Nancy Marzuki (Pam Oei) enjoying time with her teenage twin boys Sean and Ricky (Yao) at home – teasing and showing love for each other.

Then Sean and Ricky attend an Evangelical rock concert with Sean's girlfriend Mia (Ching Shu Yi) which is followed by an inflammatory anti LGBTQIA+ sermon by the pastor.

In response and in defence of his brother Ricky - Sean (a vlogger) posts a damning video making a mockery of the pastor's anti LGBTQIA+ sermon.

The whole family are caught up in a shit storm of events and an unstoppable chain of traumatic circumstances is put into motion.

The film is timely and topical. It is hard hitting and thought provoking – challenging us to think about our current stance on the treatment of individuals in society.

At the end of day, as individuals we are all seeking to live our daily lives with the fundamental human rights of equality and freedom from discrimination irrespective of race, religion, sexual orientation or gender identity.

Interestingly in August of this year, Singapore announced that it will decriminalise homosexuality, though legislation to approve same sex marriage is currently not on the cards.

The film is currently banned in Singapore due to a section of its penal code on the basis that it may offend the feelings of a religious group.

#LookatMe is a timely satirical film that raises some very pertinent issues about our current state of play in society and around the globe regarding essential human rights. Coupled with the power of technology and social media to distribute information at lightning speed, it comes to the fore as an influential and powerful movie for our times. 

PrideFEST events are on in Perth until Sunday 27 November.

If you enjoyed this article, please share it!


To find out about the hottest events in Perth, follow us at @PerthWalkabout