Details

Category: Arts & Culture
Published: Friday, 09 November 2018 06:50
Written by admin3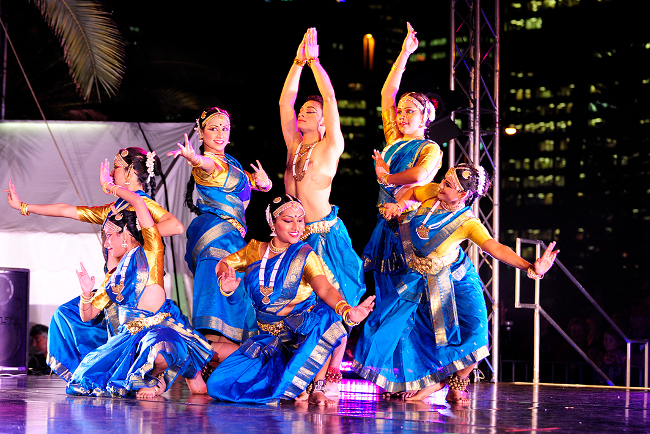 Photo Credit: Swan Festival of Lights


The Swan Festival of Lights has launched in Perth this year bigger and better offering an impressive line up of events to celebrate Deepavali.

Deepavali  is a celebration of the Inner Light that resides in all of us and is a joyous occasion that is observed by over one billion people across the world.

Just as we celebrate the birth of our physical being, Deepavali celebrates the positive permutations of 'Light' - hope, peace, harmony, knowledge, joy and truth – and it's dispelling of 'darkness'.

Some highlights of the Deepavali festival include:
Act-Belong-Commit Swan Festival of Lights - Outdoor Festival
Date: 09 November - 11 November
Free entry: from 4.30 pm
Location: Supreme Court Gardens

Enjoy delicious food & drinks by Annalakshmi, watch cultural dance and music performances by local and international groups, take part in workshops, browse arts and crafts stalls, take the kids to enjoy fun rides and activities, take a tour through Tamil Nadu and watch the spectacular fireworks each evening over the 3 day event at the Supreme Court Gardens.
Gandhi - The Movie - Outdoor Film
Date: 25 November
Free entry: 6.30 pm
Perth Cultural Centre, Northbridge

It took one remarkable man to defeat the British Empire and free a nation of 350 million people. His goal was freedom for India. His strategy was peace. His weapon was his humanity. Now, 150 years later marking the birth anniversary of Mahatma Gandhi, watch the epic film, Gandhi – directed by Sir Richard Attenborough, starring Ben Kingsley, John Gielgud, and Rohini Hattangadi. Light Indian snacks and masala chai will be served to patrons.
Conversations - Live Music and Dance
Date: 30 November at 7pm and 1 December at 6pm
Pay as you wish - tickets can be purchased from the Perth Theatre Trust

State Theatre Centre of WA - Heath Ledger Theatre

An evening of music and dance, featuring legendary sitar maestro Ustad Usman Khan, followed by 'Dance Conversations', a production collaboratively produced by Malaysian-based award-winning performing arts company TFA Inner Space Dance and Australian based arts organisation, Saraswati Mahavidhyalaya.
'Dance Conversations' disrupts the notion that mastering more than one Indian classical dance style is beyond the capability of the human body. This production will see a collection of dancers masterfully communicating through a number of dance styles, seamlessly moving from one to the next, allowing for an expansive type of conversation to occur.
'Rangoli' - Indian Street Art
Date: 01 December
Free entry: from 9.30 am
Perth Cultural Centre, Northbridge

Witness the making of Perth's largest live 12-hour continuous Indian street art. Light Indian snacks and beverages will be available from 4 pm by Annalakshmi, at the State Theatre Centre courtyard.
Soul Speak - Art Exhibition
Date: 1 November - 1 December
Free entry: 10 - 5pm weekdays/weekends
State Theatre Centre of WA

An artwork is a live entity. It speaks to the mind of the artist even before it is created. It continues to grow, interact and morph into an experience, that lasts forever in the psyche of the observer. Soul Speak is a strikingly beautiful, thought-provoking collection of private artworks inspired by music and rhythm. Perth-based, artist-dancer Sarasa Krishnan and artist-musician Subhashini Balasubramanian bring a uniqueness in approach to their creation, which speak a similar language. A speaking, a conversation, an expression of a longing from the soul.


An Afternoon with Music Legend, Vikku Vinayakram - Dialogue
Date: 03 November
Free entry: 1:30 pm
Saraswati Mahavidhyalaya (SMV) - 263 Beaufort Street, Perth

Vikku Vinayakram visits SMV for an informal dialogue with all. Vikku is a Grammy award-winning master percussionist on the 'ghatam', an ancient Indian percussion instrument from South India and is a recipient of the Padma Bhushan award, the prestigious National honour conferred by the President of India; and Sangeet Natak Acadami award, the highest honor for music in India.

The Swan Festival of Lights is presented by Annalakshmi Cultural Centre of WA and Saraswati Mahavidhyalaya (SMV), both not-for-profit institutions and guided by the principles of "Serve, Love, Give" and "Art for the love of it".

For further event information, visit their website at https://sfol.com.au/

Enjoy the celebrations in Perth for Deepavali. It is on till the 1st December.

If you enjoyed this article, please share it!




To find out about the hottest events around Perth, follow us at @PerthWalkabout