Details

Category: Arts & Culture
Published: Saturday, 21 January 2023 10:50
Written by Nita Teoh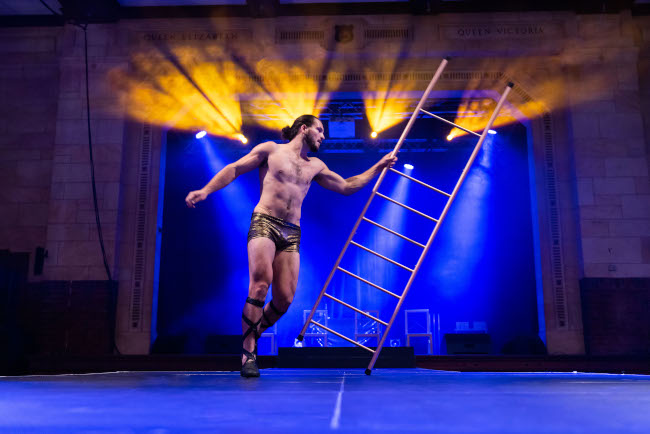 First Head Acrobats, Fringe Perth 2023
Photo Credit: Naomi Reed
The weather in Perth has been sizzling hot and so are the Godz from Head First Acrobats.

They are back for Fringe World and audiences are lucky that they will be performing at our annual fun arts fest.

Judging by the electrifying carnival like atmosphere at The Pleasure Gardens in Russell Square Northbridge as we waited outside the Aurora Spiegeltent, we knew we were up for an exciting night.

The evening's entertainment saw the ancient Gods of Olympus show off their prowess as well as at the same time tackling their demons.

The performances of Apollo (God of Light, Music & Healing), Cupid (God of Love), Hercules (God of Strength) and Dionysus (God of Wine) are fun, cheeky and amazing.

The highlights of the show are their extreme and incredible athletic performance for each of their unique performance works (aerial works on a trapeze,  balancing tricks on top of a ladder, spinning tops and some death defying antics on a stack of chairs and amazing athletic performances using their own body weight).

Combined with their on stage hijinks and teasing and camaraderie that ensued between the Gods, the audience lapped it up cheering on the boys for more as the evening's performance went by far too quickly.

But what we got was less (in clothes anyway) – but really more in a good way!

They bared all – well, nearly all.

Towards the latter part of the evening's performance, Hercules got damned in hell and without giving away any more about the storyline, he does go through a bit of a torturous ordeal ! (ouch!)

Godz by Head First Acrobats is a ripper of a show that will have you shouting for more and if you cheer on the boys a bit louder, you may just get more than you bargained for.

With a huge fan base in Perth, they received a much deserved standing ovation at the end of the evening's performance.

And special mention must be made and a pat on the back for the brave man from the audience who had to partake in challenging feats of mankind! to help the boys out with their performance - a very good sport was he.

Head First Acrobats will be performing at Fringe World Perth in their two shows for adults Godz and Crème de la Crème and their family friendly show PreHysterical. 
If you enjoyed this article, please share it!


To find out about the hottest events in Perth, follow us at @PerthWalkabout