Details

Category: Arts & Culture
Published: Sunday, 20 November 2022 11:19
Written by Nita Teoh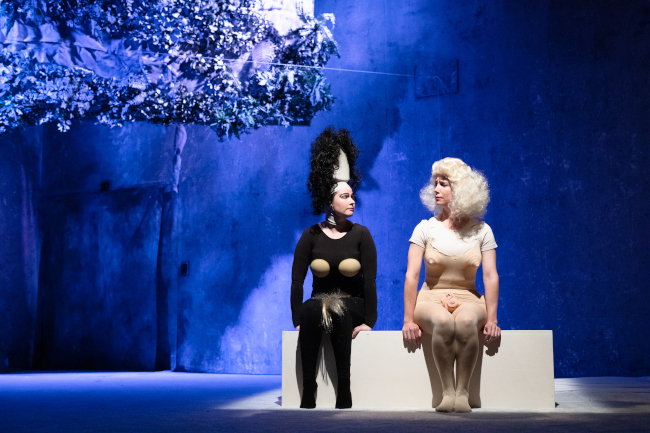 Arielle Gray (as Lilith, The Wandering Demon in the photo above) and Jo Morris (as Eve, The Mother in the photo above)
D*ck Pics in the Garden of Eden, The Last Great Hun
Photo Credit: Daniel James Grant

My partner and I headed out on a coolish Saturday evening to the Subiaco Arts Centre to watch D*ck Pics in the Garden of Eden by The Last Great Hunt.

The last time that we watched one of their shows it was Bite the Hand which we enjoyed very much.

Their contemporary style and out of the box performances are always thought provoking and highly entertaining, and  D*ck Pics in the Garden of Eden, directed and written by Jeffrey Jay Fowler, was no exception.

Many of us know our Bible creation stories – but on this evening, they were told in a rather unique way.

The costumes were of gigantic proportions – well, some parts anyway!

Projector screens lined the set as actors filmed other actors performing - who were then projected onto the screens as we watched their reactions to the sometimes tense and uncomfortable conversations.

As well as being highly entertaining, D*ck Pics in the Garden of Eden strikes a chord in fleshing out many of the societal issues that we face today across a spectre of angles.

Sexual identity, sexual abuse, sexual misconduct, the prevalence and impact of porn, the challenges of monogamy in a relationship, …

Is the fabric of society of breaking down as we know it ? ….or are the challenges that we face in today's society accelerating at such a pace that we are heading towards our downfall because the foundations of our society are no longer holding up under the strain of an ever changing and complex world ?

The actors in the performance challenge the status quo, but what is the status quo these days anyway in the shifting sands of attitudes and dogma ?

A fun night with some provocative theatre - Last Great Hunt has done it again with their latest performance D*ck Pics in the Garden of Eden.

I can't wait to see what they come up with next.

D*ck Pics in the Garden of Eden is on at the  Subiaco Arts Centre until 3 December.
If you enjoyed this article, please share it!


To find out about the hottest events in Perth, follow us at @PerthWalkabout