Details

Category: Arts & Culture
Published: Tuesday, 19 March 2019 10:39
Written by Nita Teoh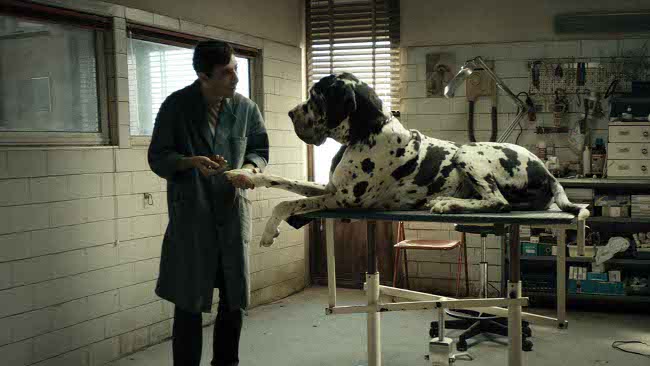 Marcello Fonte (as Marcello in Dogman)
Photo Credit: Dogman

What happens when a timid dog groomer faces off with a small time hood bully?
That is the theme of Dogman currently showing as part of the Perth Festival.
It was a hot autumn's night as we settled into our deck chairs at UWA Somerville to watch the film.
In a run-down Italian seaside town, we watched the story unfold as small time thug Simone (Edoardo Pesce) bullies timid dog groomer and petty criminal Marcello (Marcello Fonte).
The film producer Matteo Garrone does an excellent job at painting the unrelenting bleakness and challenges faced by the main characters.
The movie takes a very stark look at the psyches of a bully and petty criminal and the daily grind of being down and out in a poverty stricken town.
Dogman is rated MA 15+ - so it's not a suitable one to take the kids to. There are quite a few explicit scenes in the movie that are particularly graphic and violent –assault, death and drug use come to mind.
There was a little light relief via a few occurrences (the dog enjoying his massage at the parlour, and the poodle show) that happened in the course of Marcelo's day with his dog grooming business. And also, the love and bond that he had for his young daughter and the special times that they spent together showed the immense love that they had for each other.
Though Marcelo has his own issues and is getting bullied by the thug, in a weird sort of way, he tries to befriend Simone and there are a couple of endearing moments where there is a glimmer of kindness for each other. However, Marcello's life is changed forever when Simone strong arms him into robbing a friend.
Dogman has been the Winner of eight prizes including Best Film, Best Director, Best Screenplay and Best Actor at the Italian National film awards. Also, Marcello Fonte was the recipient of the Best Actor award at the 2018 Cannes Film Festival.
If you like movies with a lot of grit, flashes of dark humour, a dash of criminality and a hefty dollop of brutality, then this is a good pick for the Perth Festival.
Thankfully  - no dogs were harmed in the making of this film.
The movie Dogman is on at UWA Somerville until 24 March then at ECU Joondalup Pines until 31 March.
PS On a dog related note, the excellent dogumentary Pick of the Litter will be showing for a few special encore screenings in April due to popular demand. (UWA Somerville 5 to 7 April and ECU Joondalup Pines 2 to 3 April).
So if you missed watching it first time round, this is your chance to go see it.

If you enjoyed this article, please share it!



To find out about the hottest events around Perth, follow us at @PerthWalkabout