Details

Category: Arts & Culture
Published: Monday, 13 March 2023 08:59
Written by Nita Teoh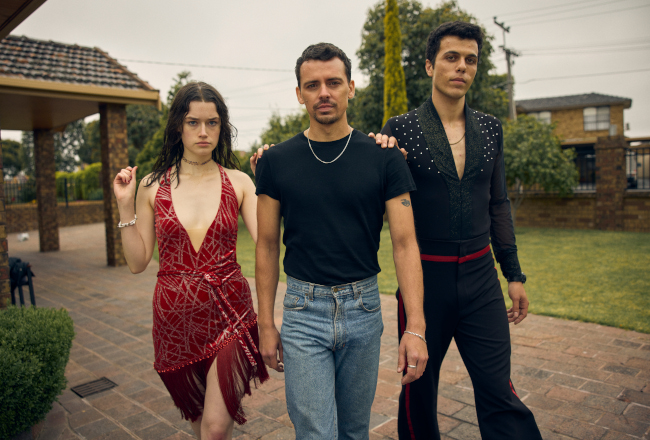 Hattie Hook (as Ebony), Thom Green (as Adam), Elias Anton (as Kol)
Photo Credit: Ben King

On a sunny Saturday morning, I had a leisurely walk down Oxford St, heading to Luna Leederville to watch Of an Age.

The teenage years can be rocky and turbulent times, let alone being a young gay man growing up in a Serbian immigrant family in a working class Northern suburb of Melbourne.

It is 1999 and Kol and Ebony are best of friends and dance partners when a distress call from Ebony after a big night out brings Kol and Ebony's brother Adam together on a long drive to rescue Ebony.

From there, an unexpected romance blossoms between Kol and Adam. Kol is "fresh as" just out of school, experiencing love for the first time, unsure about himself and his place in the world, and tentative about his sexuality, whilst Adam is older and more settled about his place in the world.

The on screen camaraderie between the two leads was perfect - tender and touching. The joy that they experienced as their intimate connection grew was well captured on screen.

A stellar performance by Elias Anton for his lead role as Kol. His emotional depth and rawness of emotions as we watched his feelings for Adam catapult him into many different states of being was felt intensely by movie goers as we watched the sometimes turbulent sequence of events unfold on screen.

This gay coming of age Australia movie provides a realistic take on the swings and roundabouts of love and romantic attraction.

Macedonian born and Australian-raised Writer Director Goran Stolevski captures the essence of growing up in Australia, and the rites of passage that come along with it.

Starring Thom Green (as Adam), Elias Anton (as Kol) and Hattie Hook (as Ebony)

Of An Age which premiered at the Melbourne International Film Festival in 2022 was the winner of MIFF@CinefestOZ Film Prize 2022 - Australia's annual $100,000 Film Prize, which recognises excellence in the craft of film making from an Australian feature film or feature-length documentary.

Of An Age opens at Luna Palace Cinemas on the 23 March. Special advanced screenings from the 17 March.

If you enjoyed this article, please share it!
To find out about the hottest events in Perth, follow us at @PerthWalkabout