Details

Category: Arts & Culture
Published: Thursday, 23 February 2023 11:02
Written by Greg Letts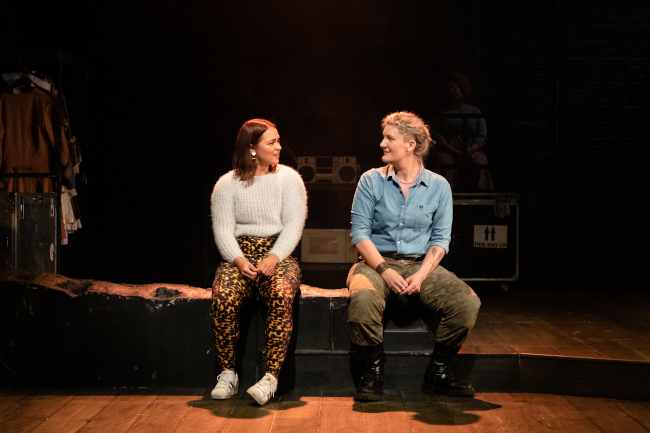 Tuuli Narkle (as Roxanne) and Virginia Gay (as Cyrano), Cyrano
Photo Credit: Daniel J Grant

Thanks to Covid, alternative venues and the vagaries of modern life, it had been quite a while since my partner and I had had the pleasure of taking in a performance at the Heath Ledger Theatre. After all the doom and gloom of the past few years, it was an inspired choice by Artistic Director Kate Champion to choose Virginia Gay's adaptation of Cyrano de Bergerac (directed by Sarah Goodes) as the season opener by Black Swan State Theatre Company in 2023.

Most of us are passingly familiar with the theme of Cyrano, the warrior-poet with the large heart and even larger nose. But the original is a tragedy, while Gay's version is a modern-day rom-com which nods to the source material but forges its own path, with new spins on the tropes of the past.

Described as a love letter to theatre (and theatre-goers), Cyrano begins in an old theatre (wonderfully designed by Elizabeth Gadsby), with a very meta introduction that works wonderfully. But even with a gender-flipped Cyrano and a delightfully self-aware cast of characters, the age-old tale of Cyrano appears to be destined to end in its usual tragic conclusion. But after all the inspiration and driving force that Cyrano has provided, it is the minor character of troupe member number 3 who refuses to accept the inevitable, causing the performance to venture into places unknown.

Congratulations to the cast and crew, with fine performances by all, but in a play such as this the lead character sets the tone, and Gay leads the way with a courageous, brash but still vulnerable Cyrano. Although I must admit the absolute scene-stealer was Robin Goldsworthy's dance moves!

Cyrano is a refreshing and joyous take on an old classic Edmond Rostand. Clocking in at 1 hour 40 minutes without an interval (you won't want one!), it's a thoroughly enjoyable night out and highly recommended.

Black Swan State Theatre Company and Perth Festival present a Melbourne Theatre Company Production Cyrano.

Cyrano is on as part of Perth Festival until the 5th March.

If you enjoyed this article, please share it!


To find out about the hottest events in Perth, follow us at @PerthWalkabout