Details

Category: Arts & Culture
Published: Friday, 14 May 2021 08:29
Written by Nita Teoh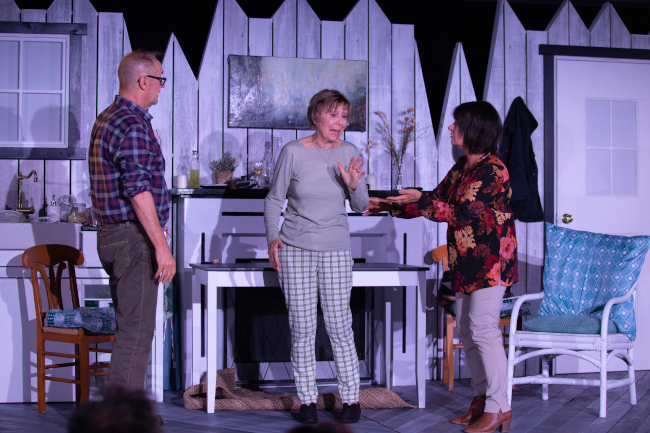 Andrew Lewis (as Robin), Jenny Davis (as Hazel), Vivienne Garrett (as Rose) in The Children by Theatre 180
Photo Credit: Stewart Thorpe

We sat within the cosy interior of the Burt Hall on the Terrace awaiting a double act by Theatre 180 - the first act up being "The Children".

My partner and I were pleased to have an evening together at the theatre – it was a bit of a treat to be out for the night after the recent covid restrictions in Perth.

The story unfolds as we meet couple Hazel (Jenny Davis) and Robin (Andrew Lewis) – who have retired and settled into life in their British seaside cottage after surviving a serious nuclear power plant meltdown.

They receive an unexpected visit from old friend and ex-colleague Rose (Vivienne Garrett), and that is when sparks fly for a myriad of reasons as her arrival disrupts their peaceful retirement.

Regrets, sacrifices, a life well lived with or without children, the pursuit of careers, love and passionate affairs – satisfying lives, moral and ethical dilemmas. The characters explore many themes in the kitchen of their simple cottage, reflecting on their behaviours (past, present and the future) and weighing up their personal gains against the greater good of humanity.

The natural progression of age leads one to ponder these questions as to what kind of legacy we leave behind.  For those of us with children, we do all we can to ensure a bright future for them with the hope that they will be ok once we are no longer around.

"The Children" is contemporary with its themes exploring the challenges of living through different stages of life, and the ability to adapt and cope with change being a crucial aspect to survival.

Given our challenges to survive in the midst of never ending crisis - covid, climate change, and natural disasters, the play is topical across many fronts.

Writer Lucy Kirkwood has brought to the fore similar thematic issues of the magnitude of a Fukushima nuclear disaster in a relevant way, and asks the audiences to reflect on some hard hitting questions about the future of our world and the impact of the choices we make.

Amidst the taut atmosphere, the play is also highly entertaining with some good laugh out loud moments amongst the characters – as they say "the truth sometimes hurts."

A special mention must also go to the beautiful painting by local artist Shiva Amir-Ansari that adorned the set.

It's topical, it's entertaining, it is storytelling at its best – Theatre 180 packs a punch with its latest performance of The Children. Make it a double feature and watch "I and You" also being performed by Theatre 180 on the same evening.

Over to my partner Greg for the heads up on that one.

It was a glorious and memorable evening of entertainment.

The Children by Theatre 180 is being performed at Burt Hall, 38 St Georges Terrace (next to St George's Cathedral) till the 29 May. 
 If you enjoyed this article, please share it!


To find out about the hottest events in Perth, follow us at @PerthWalkabout