Details

Category: Arts & Culture
Published: Tuesday, 16 July 2019 13:55
Written by Nita Teoh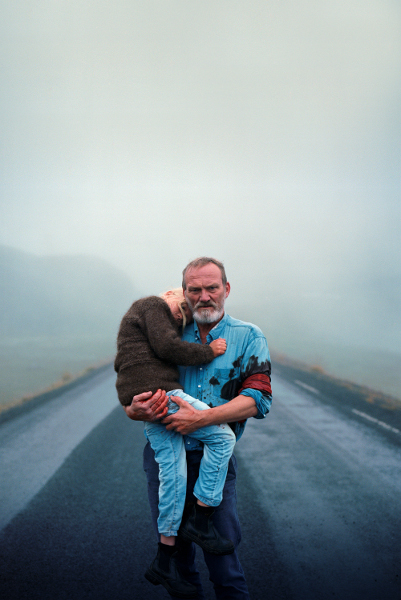 Ingimundur (Ingvar E. Sigurdsson) and Salka (Ída Mekkín Hlynsdóttir) 
Photo Credit: A White, White Day
It's that time of the year as we gaze northwards to enjoy special offerings from the 2019 Volvo Scandinavian Film Festival.

Opening Night kicks off Wednesday 17th July at Cinema Paradiso, with the premier of the Danish comedy Happy Ending followed by an after party Scandi celebration of drinks, Nordic flavours and music.

This year, the film festival brings to Perth audiences movies from across Denmark, Finland, Iceland, Norway and Sweden, along with a series of highly charged Nordic noir works - Millennium Trilogy and Department Q. The Millennium Trilogy series of films pay tribute to the famous late author Stieg Larsson whose Millennium Trilogy novels – The Girl with the Dragon Tattoo and its sequels - sold more than 90 million copies worldwide and were made into feature films.

Here are Perth Walkabout's top picks from this year's #ScandiFilmFest :
A White, White Day (Hvítur, Hvítur Dagur)
The preview screening of A White, White Day turned out to be a ripper.
A White, White Day is an Icelandic movie by writer and director Hlynur Pálmason. We follow the story of the main character Ingimundur (Ingvar E. Sigurdsson), a former police chief who comes to suspect another man of having had an affair with his late wife, who died in a tragic car accident several years ago.
As he struggles to deal with his changed life circumstances amidst his immense grief, he finds solace in renovating his home in the remote Icelandic wilderness, and spending time with his spirited young granddaughter Salka (Ída Mekkín Hlynsdóttir).
Through his powerful performance, Ingvar reveals the turbulence of our inner emotional lives and the heart wrenching pain of dealing with the complexities of grief. Other themes that were explored in A White, White Day are the pure unconditional love for one's children and grandchildren, and the emotional turmoil of betrayal and infidelities in marriage that oftentimes results in anger and revenge.
The emotionally gripping story line was complemented by some amazing cinematography that showcased the beauty and harshness of the Icelandic wilderness through each of its different seasons.

And here are our six movie picks selected from the 2019 Volvo Scandinavian Film Festival Program Guide:


Out Stealing Horses (U tog stjaele heter)
" Screening to wide acclaim in competition at the 2019 Berlin International Film Festival, this loving adaptation of Norwegian novelist Per Petterson's international bestseller is a powerful evocation of the inner lives of men tormented by their past.

Internationally renowned Swedish actor Stellan Skarsgård (The Girl with the Dragon Tattoo, Nymphomaniac) is impeccably cast as 67-year-old widower Trond, whose past has riddled him with unhealed wounds.

Having lived most of his adult life in Sweden, the death of his wife in a car accident sends him back to his Norwegian homeland. Although he arrives in the depths of a gleaming, snow-laden winter, Trond's memory drifts back to the summer of 1948 when a sequence of disturbing tragedies shattered his once blissful childhood.

As Trond's recollections are further crystallised by the presence of his neighbour Lars (Bjørn Floberg), the two men relive the events that both shattered and enmeshed their families. Set amongst breathtaking landscapes, Out Stealing Horses is an epic coming-of-age drama which deftly charts a gamut of emotions from love, loss and disappointment to guilt and irreparable lifelong traumas.

Winner: Silver Bear for Outstanding Artistic Contribution -
Cinematography, Berlin International Film Festival, 2019


The Purity of Vengeance (original title: Journal 64)
Boasting the biggest opening ever for a Danish film at the local box office, this is the stylish and chilling final instalment in the Nordicnoir Department Q series, based on the novels by Jussi Adler-Olsen.

In a seemingly abandoned apartment in Copenhagen, construction workers make a shocking and gruesome discovery. Behind a wall, three mummified bodies are seated around a dining table, as a fourth chair lies vacant. Investigators Carl Mørck and Assad (Nikolaj Lie Kaas and Fares Fares) from Department Q embark on a race against time to identify the bodies and also find out who the free space at the table might be intended for. Their search will bring them to a notorious women's hospital on the island of Sprogø where they discover what was thought to be a closed chapter of the past may still be an open book.

After his captivating award-winning debut feature Reconstruction (2003) acclaimed director Christoffer Boe reunites with actor Nikolaj Lie Kaas to achieve nothing short of an engrossing finale which has been widely heralded as the best of the series.

Nominated: Best Film, Best Adapted Screenplay &
Best Original Score, Robert Festival 2019
That Time of Year (Den tid på året)
One of the most cherished holidays of the year can also be the most disastrous, proven by Danish director Paprika Steen as she illuminates some identifiable Christmas Day family catastrophes with hilarious results in That Time of Year.

This year, Christmas will be hosted by wife and husband Katrine and Mads. On Christmas Eve, the entire extended family descends on their suburban home, including the divorced parents, the youngest sister and her new husband and the teenage daughter of the family, who is struggling to get her mother's attention. As a wholesome, traditional gathering devolves into drunken fights and inappropriate revelations, an explosion lurks, waiting to pierce the illusion of holiday peace that we so deeply insist on.

Steen also stars with her cast of formidable talents in this charming dramedy, which was written by leading Danish playwright Jakob Weis and premiered in the Contemporary World Cinema of the 2018 Toronto International Film Festival. The zesty script and fun performances are complimented with a cute soundtrack to make this film the perfect way to celebrate your Christmas in July!

Official Selection: BFI London Film Festival, 2018
Official Selection: Toronto International Film Festival, 2018
Aurora
Worlds collide amidst unlikely circumstances when the commitment phobic party girl Aurora (Jussi award-winner Mimosa Willamo) meets Iranian man Darian one cold night at a hot-dog stand in Lapland.
As they become acquainted, each divulges their life problems: Darian is a refugee seeking asylum for him and his daughter, while the outspoken Aurora's financial struggles seem unsurmountable as she faces eviction from her apartment in the Arctic ghetto.
The two of them agree to help each other in unconventional but vital ways that will shape their respective futures. But what is initially intended as a business transaction gives rise to something more in this wicked romantic comedy that is equally tender.
A fresh and daring new voice, director Miia Tervo has emerged as one of Finland's most promising young talents. Aurora, which opened the Göteborg Film Festival earlier this year, is testament to this as it boldly defies the conservative portrayal of females in Finnish films by depicting young women's substance abuse, while also addressing pertinent social and political issues.

Official Selection: Nordic Competition, Göteborg Film Festival, 2019

Official Selection: SXSW Film Festival 2019
Let Me Fall (Lof mér að falla)
Praised at its world premiere at Toronto International Film Festival, this essential and harrowing look at addiction has been celebrated by critics and audiences for its stellar performances and enthralling direction.
15-year-old Magnea (Elín Sif Halldorsdottir) is a promising student who falls in with a wild party crowd, seduced by vampish beauty Stella (Eyrun Bjork Jakobsdottir). The two form a close bond and with the help of Stella's sleazy pusher boyfriend, they graduate swiftly from using alcohol to hard drugs. This signals a quick descent into the hellish depths of substance abuse which will dictate both their futures, as decades later they meet as very different people.

Bouncing effortlessly between past and present, Baldvin Z (Life in a Fishbowl, 2014) and his incredible cast transport us inside the girls' tumultuous relationship and the traumatic experiences leading to their perilous adulthoods. Drawn heavily from true stories and extensive research in the addict community, Let Me Fall stands out as an unflinching portrayal of the cunning python of drug abuse that mercilessly engulfs its victims.

Official Selection: Toronto International Film Festival, 2018

Winner: Best Supporting Actor & Actress, Edda Awards, Iceland 2019
X&Y
Venice Film Festival award-winning artist and filmmaker Anna Odell's second feature premiered as the opening film of the 2019 Stockholm Film Festival. The stimulating exploration of hidden female/male identities features a stellar cast hailing from Sweden and Denmark.

Odell plays a version of herself as a director infatuated with the macho film star Mikael Persbrandt (In A Better World, 2010). The director and Persbrandt play different versions of themselves as a lead couple, while Odell has then chosen three actors to perform their alter egos. Relationship conflicts abound in this test environment, giving rise to jealousy, dominance and sexual obsession and putting into question how these traits relate to gender. As the cast become increasingly infuriated by Odell's cryptic and basic script, two psychologists struggle to maintain order.

X&Y is a provocative piece of contemporary filmmaking which plays in the space between the sublime and the ridiculous. Meanwhile, its overarching concept is based in an identifiable logic: that every person has three identities - the self, the one we would like to be, and the way we are seen.

Nominated: Big Screen Award, International Film Festival Rotterdam, 2019

Nominated: Bronze Horse Award, Best Film, Stockholm Film Festival, 2018  "



The Scandinavian Film Festival is on from the 17th July to the 7 August at Luna Palace Cinemas in Perth.
If you enjoyed this article, please share it!


To find out about the hottest events around Perth, follow us at @PerthWalkabout