Details

Category: Arts & Culture
Published: Tuesday, 27 July 2021 09:15
Written by Nita Teoh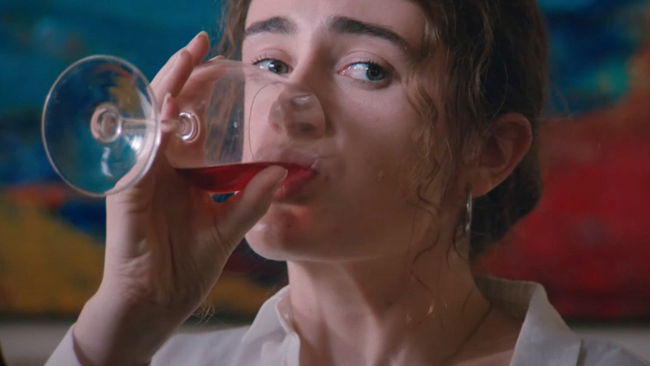 Rachel Sennott (as Danielle)
Photo Credit: Shiva Baby
Growing up in a tight-knit Jewish family community comes with its own expectations, rules and family life. Add to that the challenges of growing up bisexual – and you've got the makings of an interesting story.

Danielle sets off with her parents to attend a shiva (a wake) after a family friend's funeral. She is a busy University student trying to juggle all the different parts of her life – studies, part time work, dealing with the pressures of parental approval, and comparison with her peers etc.

When she turns up at the wake with her parents,  she discovers that her sugar daddy is also there  – along with one of her ex-girlfriends – the relationship who her Mum describes as that sort of weird thing that happened with your friend.

When her carefully compartmentalised worlds collide, the comedically disastrous sequence of events and mishaps that unfold are too excruciatingly embarrassing for any girl to cope with.

The comedy is dark – but not too dark – its funny moments brought lots of laughs to the audience.

Shiva Baby is an interesting exploration of growing up bisexual and finding your feet. Danielle's challenges (including her sexual ones) are reflective of growing pains along with the added complexity of being attracted to both genders.

The movie gently scratches the surface in regards to the challenges of sexuality - don't expect a deep and meaningful unearthing of souls or any cathartic conversations about coming out bi.

It is a light and breezy American comedy that explores the issue of growing up bisexual through its central character Danielle, who has a tough time confronting societal expectations of religion, family, peers, and a conventional relationship. It never ends.

The movie ends on a funny, light note – but one could easily envisage many more chapters of Danielle and her goings on.

If you are up for lots of good laughs around the story of Danielle and her difficulties in being a bisexual girl growing up Jewish, Shiva Baby is an excellent movie to enjoy on a winter's evening in Perth.

Shiva Baby opens at Luna Palace Cinemas on 29 July.

Thanks to Holy Bagels for the bagels on preview night. The sustenance before the movie hit the spot nicely especially with the cream cheese and jalapeno topping.

If you enjoyed this article, please share it!


To find out about the hottest events in Perth, follow us at @PerthWalkabout