Details

Category: Arts & Culture
Published: Friday, 23 July 2021 09:23
Written by Lee-Ann Khoh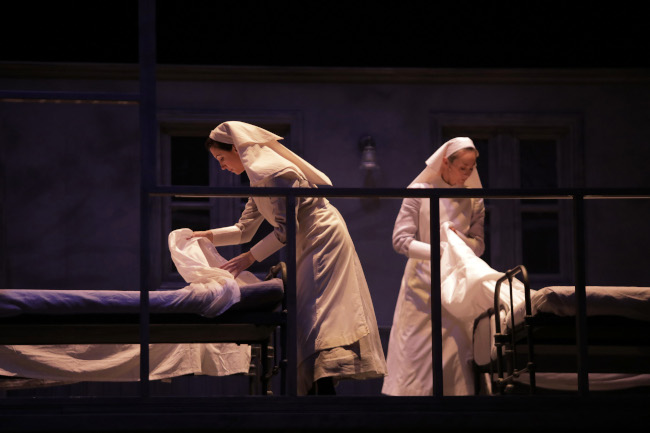 Jo Morris and Alison Van Reeken in York
Photo Credit: Philip Gostelow

As I write this review, Boorloo/Perth is pretty much free of COVID restrictions. But as I walked through the rain, past Yagan Square and into the State Theatre Centre to catch a performance of York (which had itself been delayed due to COVID) three other states were in lockdown, and I couldn't help thinking, not only about how lucky I was to be out and about, but also how privileged I have been in so many ways throughout my life. And how not everyone gets to enjoy the things I take for granted.
York, written by Ian Michael and Chris Isaacs, is certainly ambitious – spanning two centuries of Western Australian history in two hour-long acts. We begin the play in the current day, with tree changing couple Emma and Rosy moving into the Old York Hospital, now a private residence. Emma, a lawyer, is soon called back to the city to defend one of her juvenile clients, leaving Rosy to unpack their boxes with the help of their new neighbour – who is clearly terrified of the house.

We then begin to shift back in time… To the 1980s, where a scout troop experiences a series of unexplained paranormal events at the same house on Australia Day… To the end World War I, where the building served as a hospital for returned soldiers – but only the white ones… And to the early days of white settlement, exploring the events surrounding the death of York settler Sarah Cook.

The adults and children in the cast all delivered great performances, taking on multiple roles across the different time periods. But in my opinion, the stars of the show were the sound and lighting – perfectly timed and executed for maximum eeriness and effect.

York shines an uncomfortable but important light on the dark realities and atrocities of our history – much of which is ignored or glossed over in classrooms and in mainstream media. This ghost story with a difference was definitely worth getting caught in the rain for.

York, presented by Black Swan State Theatre Company in collaboration with WA Youth Theatre Company, is on at the Heath Ledger Theatre until the 1st August.

If you enjoyed this article, please share it!


To find out about the hottest events in Perth, follow us at @PerthWalkabout