Details

Category: Arts & Culture
Published: Tuesday, 01 January 2019 11:41
Written by Greg Letts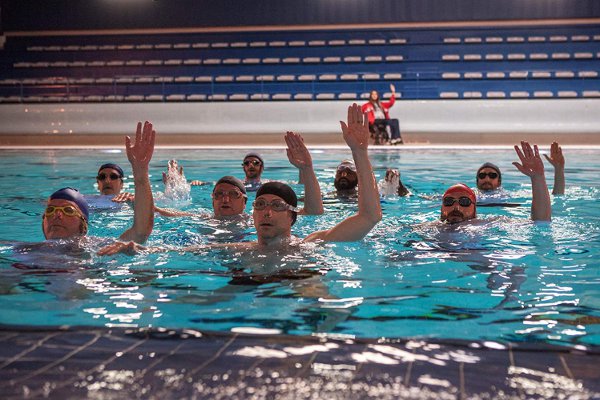 Photo Credit: Sink or Swim

On a beautifully balmy New Year's Eve my partner and I joined what seemed like half of Nedlands at the Somerville in UWA to watch the French drama / comedy Sink or Swim. Billed as a crowd pleasing Full Monty style film, Sink or Swim found us swimming in darker waters than the traditional British classic.

Whilst following the standard "bunch of inept losers come together to overcome their problems and rise to the top", Sink or Swim avoids merely sticking to the stereotypical patterns normally seen in such movies. The characters certainly have their share of problems, with failed marriages, depression, bankruptcy, social misfits, and alcoholism among their ranks, but they are steered well away from the caricatures most movies use for cheap laughs. The people in Sink or Swim feel much more like real people with real problems, just dialled up a notch or two.

Being a movie about male synchronised swimming, there is naturally plenty of comedic material available regarding people's reactions to men prancing about in a pool, but in all honesty just about any sport would have worked as well. When you have a bunch of mid-life blokes training together, then bonding and opening up about their lives and problems afterwards, you have the basis for an entertaining movie. Although the swimming pool does add a nice "baptism/rebirth" touch to the proceedings.

Given the problems that all the characters have, and the fact that the comedy isn't played for cheap laughs, Sink or Swim could have made for a quite depressing experience. But the cast give strong dramatic performances, there is still plenty of humour to be found, and there is enough redemption for each character to give audiences a warm and fuzzy glow by the end of the movie.

A thoroughly entertaining film to be enjoyed in summer under the pine trees at UWA Somerville or ECU Joondalup Pines – just remember to come early to nab a seat, and bring the insect repellant!

Sink or Swim is on until 13 January 2019 as part of the Perth Festival Lotterywest Films.
If you enjoyed this article, please share it!



To find out about the hottest events around Perth, follow us at @PerthWalkabout