Details

Category: Arts & Culture
Published: Wednesday, 03 May 2023 12:10
Written by Nita Teoh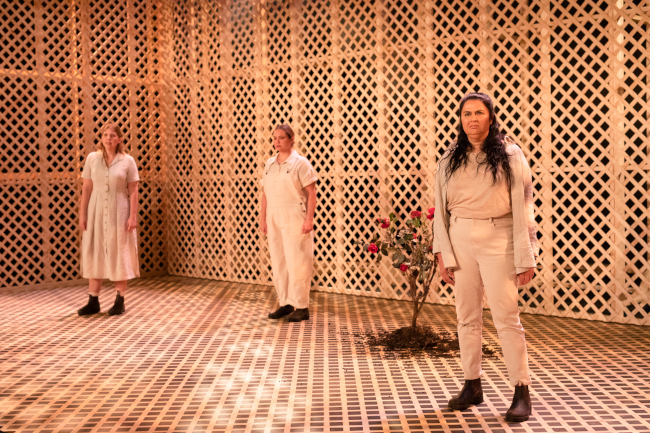 Stephanie Somerville, Ebony McGuire, Karla Hart, The Bleeding Tree
Photo Credit: Daniel J Grant
I was eagerly awaiting another visit to the State Theatre Centre of WA – one of my favourite places in Perth.

This time I was headed down to Studio Underground to watch The Bleeding Tree by Black Swan State Theatre Company.

The stark, minimalist set with white painted lattice work on all three sides from top to bottom was all that met the audience as we waited for the play to begin.

The shadowy effects of the lattice created a slightly eerie effect...exuding silence and nothingness. A small thought bubble came up in my mind – I wonder what is going to happen?

This was my first time seeing The Bleeding Tree – it was last performed back in 2021 at The Blue Room Theatre.

This adaptation by Black Swan State Theatre Company did not disappoint.

A Mum and her 2 daughters. It is the aftermath...the aftermath of the violent killing of their Father with a shot gun. They are all very relieved. A vivid picture of the prior violence is painted for the audience.

And so the play begins.

A complexity of emotions was aired out into the vast space with the high tension of their situation accelerating. I felt my whole body tense as I watched the play unfold.

Hatred, anger, relief, fear for their own lives - the mix of emotions was a heady cocktail of intensity, and a constant reminder of the brutality and violence that had been going on for decades and the aftershock once it had all ended.

At times, the actors lines snapped and snarled, somewhat reflective of the beat of a rapper's lines in a song. Ominous and frightening, creating an ebb and flow with its own heady and over intoxicated rhythm.

With minimal props, The Bleeding Tree is a powerful and provocative piece clocking in at one hour long. Hats off to the 3 amazing actors (Stephanie Somerville, Ebony McGuire, Karla Hart) who pulled it off as they powered away to the tumultuous ending.

Director Ian Ian Michael and Writer Angus Cerini have opened up our world to bring awareness to the violence that may happen in some households across Australia.

I left the State Theatre with another thought provoking play replaying in my mind. No remorse. How can that be? Pretty serious stuff expounding on the brutality of the situation.

The Bleeding Tree is a wake up call and a timely reminder in light of the referendum on Aboriginal representation on our political front.

The Bleeding Tree by the Black Swan State Theatre Company is showing as part of the Boorloo Festival until 14 May.
If you enjoyed this article, please share it!
To find out about the hottest events in Perth, follow us at @PerthWalkabout
The writing was thought-provoking and beautifully executed. I left the theatre feeling truly moved and inspired. Thank you to the Black Swan State Theatre Company for bringing such a powerful and important story to the stage.
---