Details

Category: Arts & Culture
Published: Sunday, 11 October 2020 08:39
Written by Nita Teoh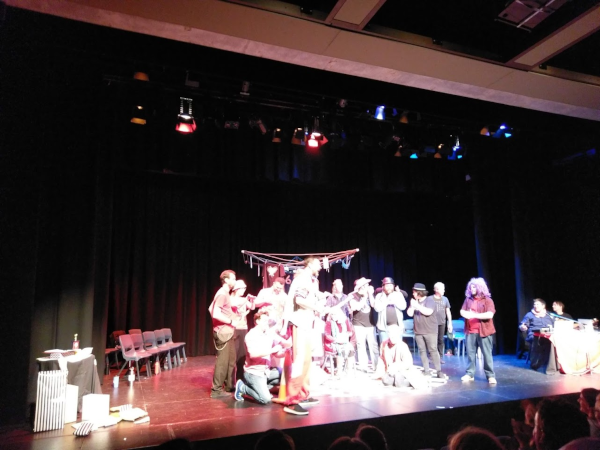 The Big Hoo Ha, Dolphin Theatre, UWA
Photo Credit: Nita Teoh
In these uncertain times of covid-19 and social distancing, my partner and I were looking forward to getting out of the house and watching a real live performance for the first time in many months.

Strangely enough, in a time where performers have had many months away from the spotlight to rehearse and hone their roles, our first foray back to the theatre was to watch a night of improvisational comedy – The Big Hoo-Haa! 18th Birthday Show, at the Dolphin Theatre in the Nedlands UWA campus.

Improv comedy is one of those real seat-of-the-pants things, especially when performed troupe style like the way The Big Hoo-Haa does it. Two large teams of improvisers have a few of their number selected to perform an off-the-cuff comedy scene, with a number of random elements thrown in to keep everybody on their toes (such as different acting directions, props and crowd suggestions). The crowd then gets to decide which team has outdone the other in the quest for glory!

As you can imagine, a setup like this calls for an engaged, enthusiastic crowd and a pretty talented set of performers – fortunately, we had both. We also had director Sam Longley acting as MC (Vanilla Ice!) and referee to stop things from getting too out of hand!

Obviously each performance of The Big Hoo-Haa is going to be very different, but I got the impression that there were a number of tried and true elements to the show as well, judging by the crowd reaction as the stage directions were announced – I think some audience members had been to quite a few of the shows over these 18 years! A couple of my personal favourites were the Doo-run song at the start (some fast and funny rhyming required!) and the Blind Lines scene (which had 6 random lines from the audience inserted in the scene, and which came out with a big finish that couldn't have been scripted better!). And to be honest, some of the misses and recoveries led to better laughs than the hits!

All in all, The Big Hoo-Haa! 18th Birthday Show was a nifty night of quick quips, lightning lines and interesting improv, which provided us with much needed guffaws and giggles in these troubling times. You can catch The Big Hoo-Haa team at the Rosemount Hotel on Thursday nights these days, having shifted from their old home at Lazy Susan's Comedy Den at The Brisbane Hotel. Tickets available through the venue or at the door.
If you enjoyed this article, please share it!


To find out about the hottest events in Perth, follow us at @PerthWalkabout