Details

Category: Arts & Culture
Published: Thursday, 06 February 2020 09:38
Written by Greg Letts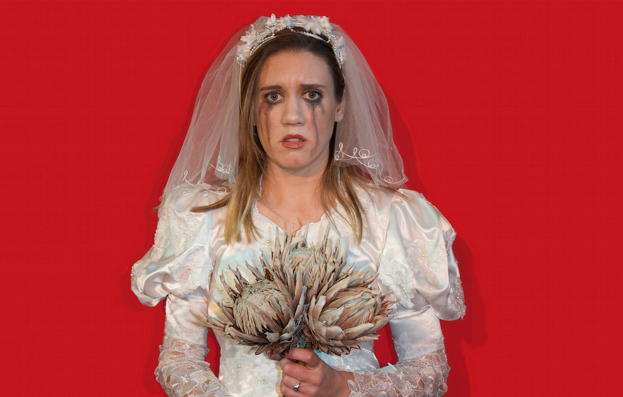 Photo Credit: The Bride, Nadia Collins
When the media release for a performance talks about brides turning into cockroaches, you know you are in for something a bit different. In the case of The Bride, that difference is an hour of insane and zany physical comedy!

Cockroaches give just about everybody the "Ewww!" response, but don't let that put you off heading into The Blue Room Theatre to watch this terrific little gem. It's held in the Kaos Room, which turns out to be aptly named!

Performer Nadia Collins contorts and distorts her body with gleeful abandon, as she portrays the tribulations of a bride who has awoken on her wedding day only to discover she is now a cockroach! But can she make it to the altar on time? She'll need the help of the audience to get there!

The type of audience can influence the success of Collins type of comedy – you need a responsive and enthusiastic crowd to really let the performer shine. Fortunately, our audience was more than willing to go along for the ride, resulting in a riotous good time being had by all!

Feeding off the energy in the crowd, Collins bounced around the room like a rubber ball on steroids – her hen's night rendition might be a little too close to home for some, but it is worth the price of admission just for her portrayal of a cockroach scuttling from the light!

The Bride is an hour of sheer silliness superbly executed by an engaging comedian – it was definitely the most fun I've had at Fringe World 2020 so far. It's not for the kiddies but if you are in touch with your naughty inner child and aren't afraid to get a bit silly yourself then go check it out – you'll be glad you did!

If you enjoyed this article, please share it!


To find out about the hottest events around Perth, follow us at @PerthWalkabout