Details

Category: Arts & Culture
Published: Friday, 14 May 2021 08:52
Written by Greg Letts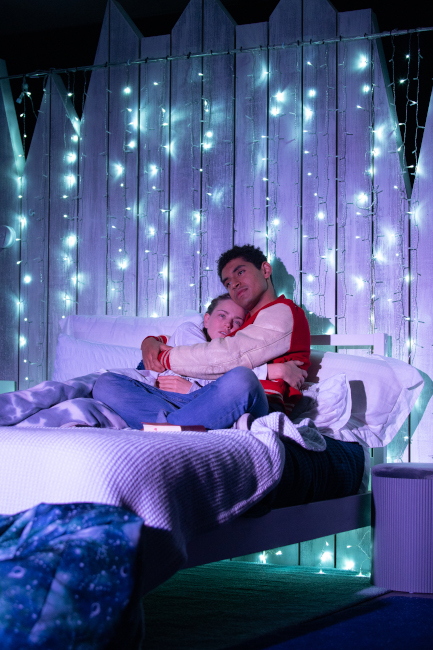 Sophia Forrest (as Caroline) and Darius Williams (as Anthony) in I and You by Theatre 180
Photo Credit: Stewart Thorpe
Upon heading to Perth's newest performing arts venue – Burt Hall on St Georges Terrace – I was struck by how intimate the setting is. Nestled in one of the rooms underneath the main hall, it is a perfect setting for giving the audience that real "fly on the wall" experience, since even the back row is only a few metres from the elevated stage.

This feeling of really being there works wonderfully well in Theatre 180's production of I and You, Lauren Gunderson's two-hand story of teenage angst, pain, hope and love. Set in 17 year old Caroline's bedroom, you really do feel that you are perched in a corner, watching the story unfold.

Caroline is currently sick at home, waiting and hoping for a desperately needed liver transplant. She is ill, tired and understandably bitter about her situation, isolated in her bedroom with only a mobile phone as a lifeline to the outside world. Resigned to another night of trivialities on Facebook, Instagram and texting, she is not prepared for Anthony to come crashing through her bedroom door spouting lines from poet Walt Whitman, and asking her for help with his English Lit project.

Anthony is full of life, passion and physicality. Caroline is unwell, retiring and acerbic. They appear to have nothing in common, just like the contrast between their modern day lives filled with technology and that of Whitman, who was writing back in the 1860's during America's civil war. But during the course of their assignment, Caroline and Anthony discover connections between Whitman's life and work and their own situations, as well as a deepening bond of love and understanding with each other.

Congratulations must go to the cast and crew of Theatre 180 for this production of I and You, which held the audience spellbound until the climactic finish. Both Sophia Forrest (Caroline) and Darius Williams (Anthony) received a well deserved standing ovation for their performances. A 90 minute play with just two actors and a large amount of character development is a heavy load to put on young shoulders, but they rose to the occasion superbly. Next time come back out for a second bow, you both earned it and the audience weren't ready to let you go just yet!  
If you enjoyed this article, please share it!


To find out about the hottest events in Perth, follow us at @PerthWalkabout